Parnell throws scoreless inning in Triple-A game
Murphy hits off tee, still questionable for Opening Day with strained hamstring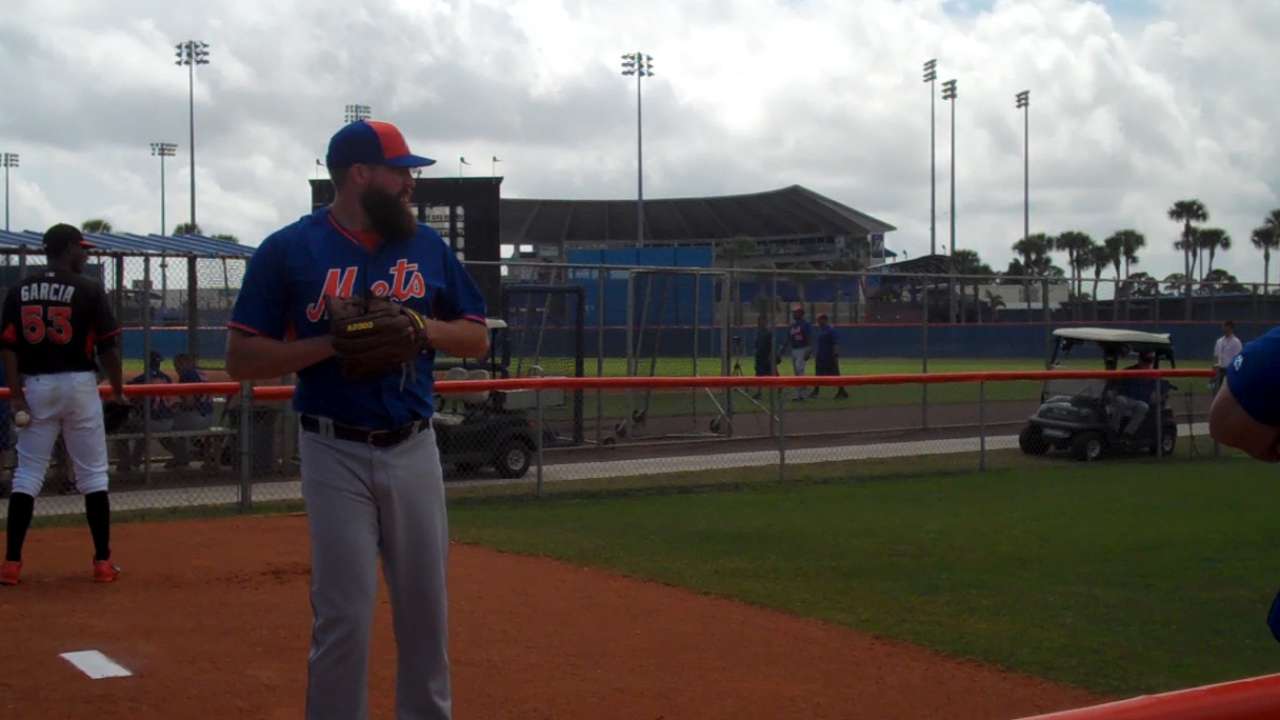 PORT ST. LUCIE, Fla. -- A gaggle of scouts, executives and Minor League players gathered around a back field of the Mets' complex Wednesday to watch former closer Bobby Parnell pitch. Several of them clutched radar guns, curious to see how fast Parnell -- nearing the one-year anniversary of his Tommy John surgery -- would throw.
The one person decidedly uninterested in velocity was Parnell. Focusing on quieting his mechanics while working in particular on his two-seam fastball, Parnell shrugged off radar-gun readings that rested around 90 mph, topping out at 92.
"I went into this outing trying not to overthrow," Parnell said. "I knew the gun wasn't going to be anything outstanding. So I backed off. I wanted to work on my two-seamer because it wasn't there last game, and make sure I stayed back on the rubber and stuff like that. It was more of a 'go out there and knock the rust off' type of thing, rather than overthrow."
Pitching in a Triple-A game against the Marlins, Parnell struck out one batter, allowed a double to Derek Dietrich and induced two ground balls in a scoreless inning. He threw 17 pitches, 12 for strikes, in his second game action since undergoing surgery in April 2014.
"It was an improvement from last outing," Parnell said. "I felt like I was a little bit more in control. A step in the right direction."
Though the Mets went into the winter hoping to have Parnell return by mid-April, perhaps even by Opening Day if all went right, Parnell has since pushed his timetable back to "sometime in May." That gives him more than five weeks to increase his velocity from the low-90s up to an average of around 95 mph, where he sat from 2012-13.
In Parnell's absence, Jenrry Mejia will close.
"I want my body to tell me when to go," Parnell said. "I don't want to look at the calendar and have it tell me when to go. I want to be 100 percent. I want to be able to help the team, more than just being there."
• Second baseman Daniel Murphy (strained right hamstring) hit off a tee on Wednesday and took throws from Wilmer Flores (bruised left foot), but did not field ground balls. While Flores could return to game action as soon as Thursday, Murphy is still questionable for Opening Day. "Each day it's getting better," he said, "so hopefully I'll progress."
Anthony DiComo is a reporter for MLB.com. Follow him on Twitter @AnthonyDicomo. This story was not subject to the approval of Major League Baseball or its clubs.