Murphy progresses; Black unlikely for opener
Mets second baseman plays field for second straight day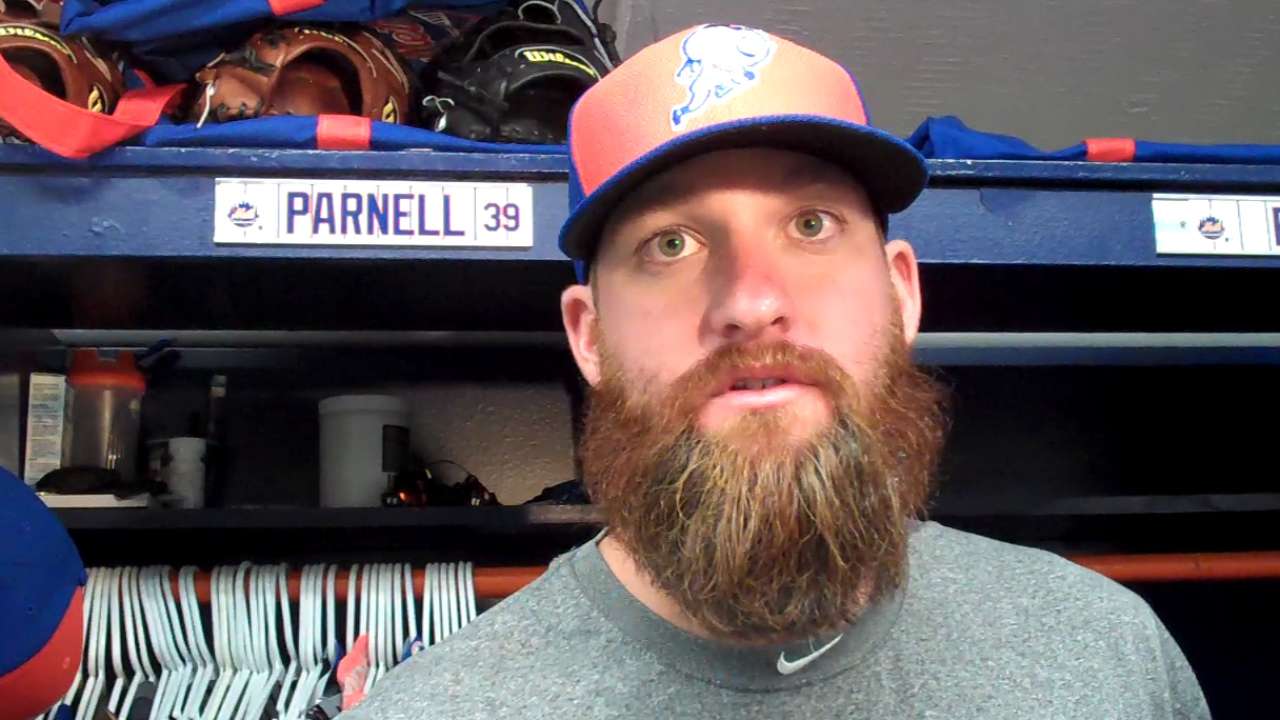 PORT ST. LUCIE, Fla. -- While Mets reliever Vic Black is almost certainly heading to the disabled list to open the season, second baseman Daniel Murphy still may avoid it.
Rehabbing Mets players Black, Murphy and Bobby Parnell all participated in a Minor League game on Tuesday, taking different things out of it. For Black, the game was an opportunity to rear back and throw up to 94 mph, feeling nothing untoward in his once-sore right shoulder.
Still, the Mets want Black to pitch in back-to-back games before rejoining the big league club, and there is not enough time for him to do so without rushing through the process. As a result, the team will almost certainly place Black on the DL retroactive to March 28, meaning he will be eligible to return for the Mets' sixth game of the season.
"The last thing you want to do is jump into going back-to-back … and start aching again," Black said. "But I was happy with today."
Murphy is in a similar situation, hoping to return for Opening Day but running out of time. For the second straight day, Murphy tested his strained right hamstring by playing second base in a game, this time for five innings. He also took five at-bats and ran the bases.
Once considered an extreme long-shot for Opening Day, Murphy now has a reasonable chance to make it. He will stay in Florida this weekend when the rest of the team flies to Texas for a pair of exhibition games, playing in additional Minor League games before rejoining the club in Washington if he is healthy. The Mets cannot use him in their Texas exhibitions because they would lose the ability to backdate his DL stint to March 28.
"I felt good today, so that's all I can ask for," Murphy said. "I like the way I'm progressing. … Each day I've been pleasantly surprised at how good I've felt."
If Murphy is unable to go by Opening Day, the Mets will start Ruben Tejada, Danny Muno or Matt Reynolds at the position. A platoon of Tejada and Muno appears most likely at this point, simply because the Mets do not want to disrupt Reynolds, a high-ranking prospect, for only five games. Tejada is also the only one of the three boasting big league experience.
"There are a lot of things that go into playing a big league game at second base," manager Terry Collins said. "We certainly think we have some options. We'll pick the guy, as we wait for Dan [Murphy]-- if Dan's not ready -- who we think gives us the best chance to win."
Of the three big leaguers who appeared in Wednesday's Minor League game, only Parnell is unlikely to return to the Mets by mid-April. Still rehabbing from Tommy John surgery, Parnell topped out at 94 mph, but allowed a three-run homer and two doubles, and could not complete his inning.
"I think the process is good," Parnell said. "Obviously the results aren't reflecting how hard we're working."