Mets add Reynolds to NLDS roster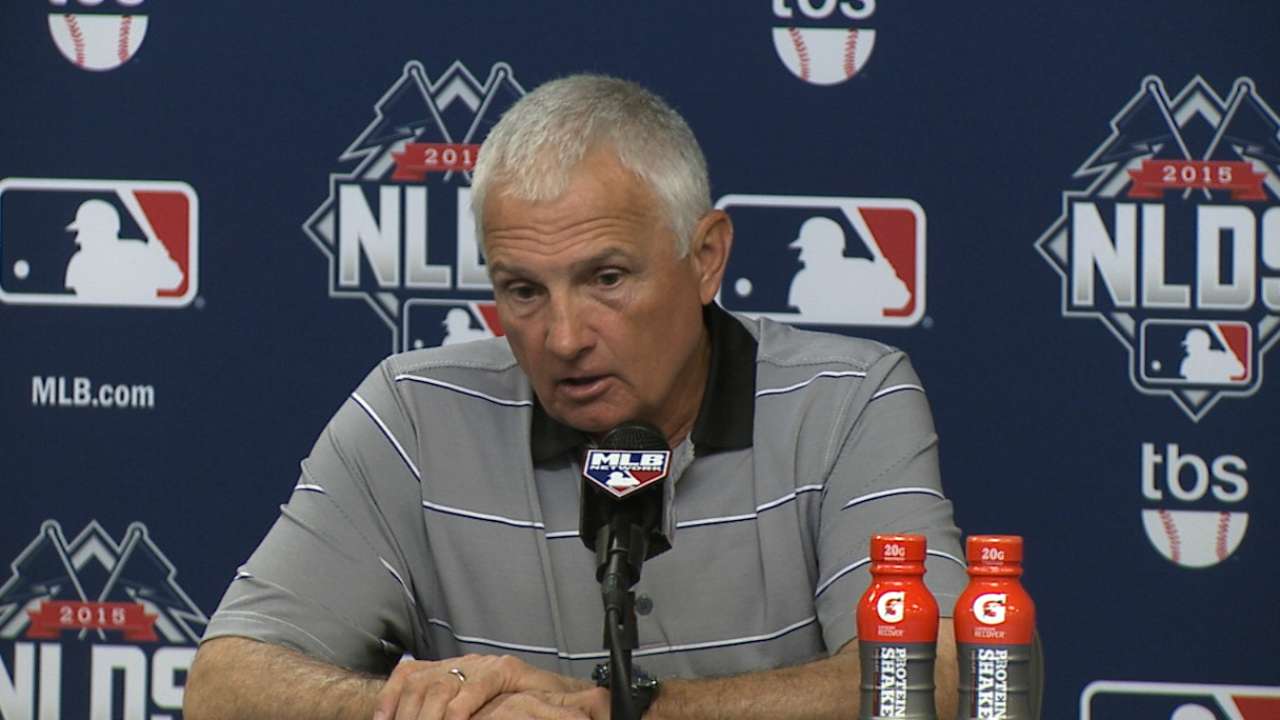 NEW YORK -- Quietly, the Mets sent shortstop prospect Matt Reynolds to their St. Lucie complex after the Triple-A season ended in September. Reynolds wasn't seriously considered for promotion when rosters expanded on Sept. 1. He wasn't even on the 40-man roster at the time, and never was during a season that didn't lack for promotion opportunities, particularly for infielders. In St. Lucie, the Mets' No.7 prospect served as insurance, only to be used in the most bizarre of emergencies.
On Saturday night, that emergency arrived. Chase Utley barreled into Ruben Tejada during the seventh inning of the Mets' 5-2 Game 2 loss to the Dodgers in the National League Division Series, sending shock waves with him. The collision sparked league-wide debate as to the legality of takeout slides, fractured Tejada's right fibula and cleared an unlikely roster spot for Reynolds, the Mets' second-round Draft pick in 2012. Reynolds boarded a plane for New York, where clubhouse attendants stitched a No. 56 jersey with his name on it. Utley was suspended for Games 3 and 4 of the NLDS, and he is appealing the suspension. It is unlikely Utley's hearing will be heard before Game 3 on Monday night.
• Shop for postseason Mets gear
Reynolds was added to the roster before Monday's Game 3, to be used primarily as a backup for replacement starter Wilmer Flores at shortstop, and Daniel Murphy at second, if necessary. Game 3 will be played at 8:30 p.m. ET on TBS.
If Reynolds plays, he would become the second player in the modern era to make his Major League debut in the postseason. Mark Kiger made two pinch-running appearances for Oakland in the 2006 American League Championship Series against Detroit.
A University of Arkansas product, Reynolds posted a .267/.319/.402 slash line with six homers and 65 RBIs in 115 games for Triple-A Las Vegas in the hitter-friendly Pacific Coast League this season. Those numbers represented a drop-off from the .333/.385/.479 line he recorded at the same level in 2014, and contributed heavily to New York's decision not to promote him early in the season when Flores and Tejada struggled.
Now, Reynolds' selection comes over Wilfredo Tovar and Dilson Herrera, both of whom are on the 40-man roster. Tovar, primarily a shortstop, is on the 60-day disabled list.
New York's options were limited. Herrera, 21, played second base exclusively this season in 84 games across three levels, although he had been working out at shortstop recently. No player on the Mets' playoff roster possessed any Major League experience at shortstop except Kelly Johnson, whose lone start there this season was the only one of his 10-year career. Juan Uribe made cameos at short as recently as 2012, but he's inactive with a chest injury. Utility man Eric Campbell played two games there in a pinch in 2014. He remains in St. Lucie with the rest of New York's taxi squad.
Herrera went home to Colombia after the regular season.
Instead the Mets summoned Reynolds, who profiles as an offense-first infielder with good speed. He stole 13 bases in 17 attempts this year for Las Vegas, where he started 92 games at short.
Joe Trezza is an associate reporter for MLB.com. This story was not subject to the approval of Major League Baseball or its clubs.