Wheeler hopes to return over weekend
Mets carefully monitoring pitcher after he felt tenderness in elbow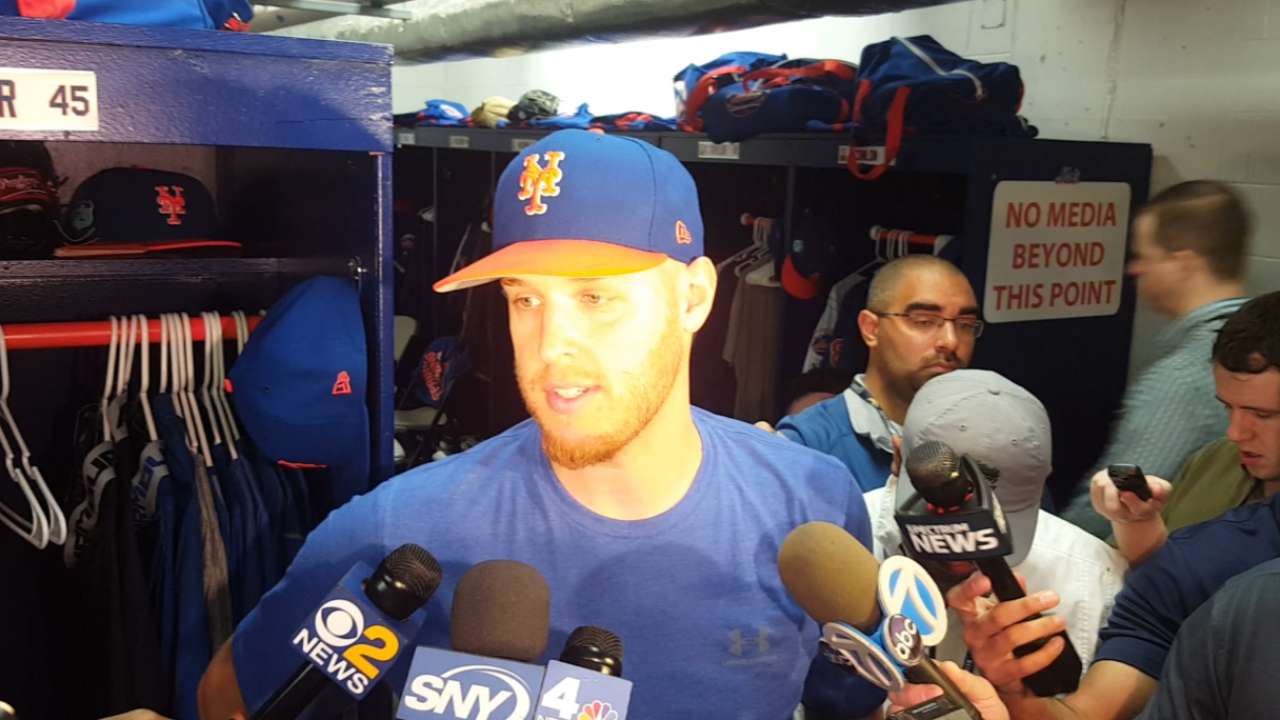 PORT ST. LUCIE, Fla. -- For the first time since Monday, Zack Wheeler played catch with his teammates on Thursday at Mets camp, looking to rebound from the right elbow tenderness that halted his throwing program earlier this week.
The Mets continue to classify Wheeler's issue as minor, likely stemming from lingering scar tissue in his elbow. But as he left Tradition Field early Thursday afternoon, Wheeler said he will not return to the mound Friday as expected. He hopes to do so Saturday or Sunday, instead.
"I know how it is," Mets manager Terry Collins said. "Especially with all of those pitching issues we've had, it becomes a major issue, but we don't think it's major yet until we get into this a little further. If he continues to have it in seven to 10 days, we've got to re-examine him."
Wheeler has not appeared in a professional game since undergoing Tommy John surgery in March 2014. His rehab has been fraught with issues, including an undissolved stitch in his throwing elbow that required a second surgical procedure, and a flexor muscle strain that necessitated a platelet-rich plasma injection.
The hope was that Wheeler would come to camp this spring fully healthy, ready to showcase the skill set that made him one of baseball's most promising young pitchers from 2013-14. And while a routine physical examination earlier this week revealed nothing structurally amiss, the Mets are not taking any chances with Wheeler's latest bout of soreness.
"It's legitimate, obviously, because of the past two years -- there's always a concern," Collins said Thursday. "Basically the first time in two years that he got on a mound and he thought he had to start exerting himself a little bit, so his elbow's a little flared up. But he took some anti-inflammatories, felt a lot better today and we're hoping that [this weekend] he can throw off the mound."
Anthony DiComo has covered the Mets for MLB.com since 2008. Follow him on Twitter @AnthonyDiComo and Facebook, and listen to his podcast. This story was not subject to the approval of Major League Baseball or its clubs.