Tebow faces tough test vs. Porcello on MLB.TV
Mets' high-profile prospect makes spring debut as DH in split-squad game vs. Boston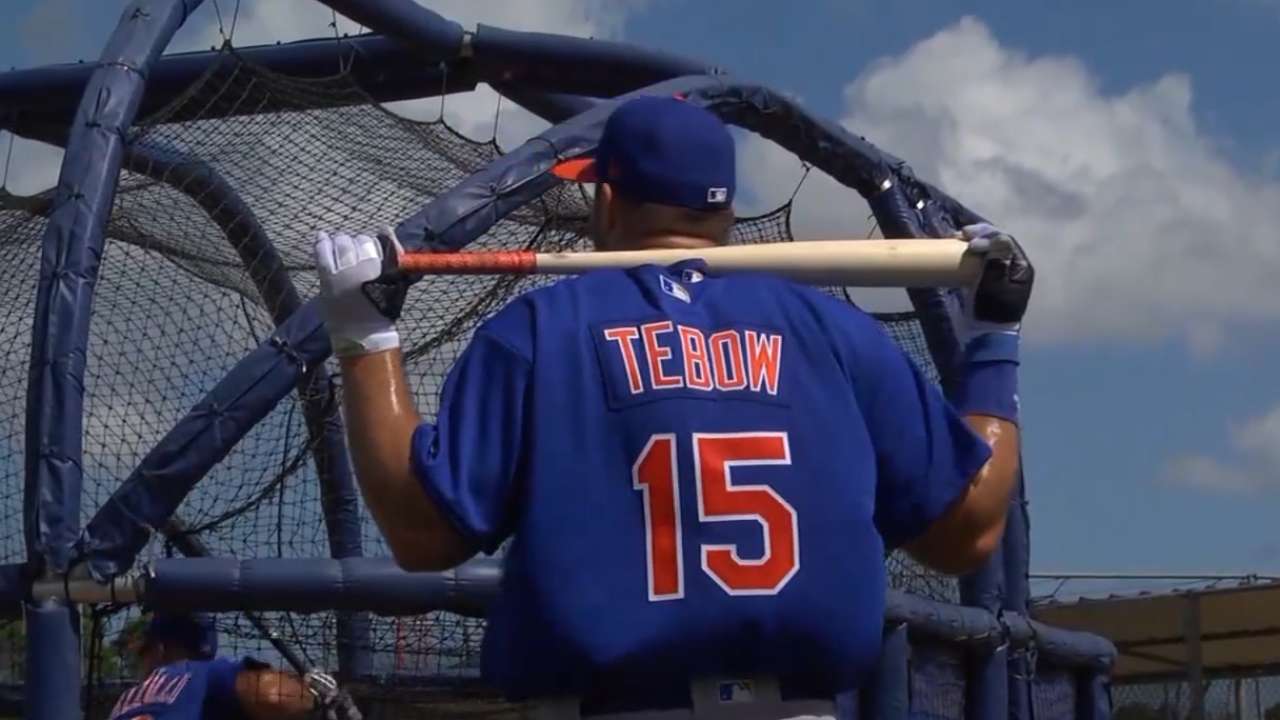 JUPITER, Fla. -- Not only will Tim Tebow start his first Major League-level game today with virtually zero professional baseball experience, he'll do so against the reigning American League Cy Young Award winner, and it'll be live on MLB.TV.
Tebow will make his Grapefruit League debut batting eighth at designated hitter, starting in the home half of the Mets' 1:10 p.m. ET split-squad game against Boston. That places Tebow directly opposite Red Sox right-hander Rick Porcello, who won the 2016 AL Cy Young Award with a 22-4 record and a 3.15 ERA.
The assignment is not out of context, considering how much the Mets have challenged Tebow since signing him to a Minor League deal last September. After the Heisman Trophy-winning former quarterback received his first professional baseball reps in the instructional league, he advanced directly to the Arizona Fall League, traditionally a haven for high-ranking prospects. Though Tebow struggled there, hitting .194 with 20 strikeouts in 70 plate appearances, he reached base at a .425 clip his last 11 games.
• Spring Training: Information | Tickets | Schedule | Gear
Since reporting to Spring Training a week early as part of the Mets' STEP camp for highly regarded prospects, Tebow has spent most of his time taking batting practice and participating in outfield defensive drills. He has never faced anything close to a pitcher of Porcello's caliber.
"I don't think he's going to make our team," Mets manager Terry Collins said, laughing. "But I think it's great for the organization, it's great for the fans. He's a pretty famous guy and it will be fun to get him out there."
The Mets plan to borrow Tebow from their Minor League camp again for a split-squad home game Friday against the Astros. With 11 of their players now departed for the World Baseball Classic, which began Monday, the Mets simply do not have enough bodies left in big league camp to fill out split-squad rosters.
Tebow could see time in the outfield on Friday.
Anthony DiComo has covered the Mets for MLB.com since 2008. Follow him on Twitter @AnthonyDiComo and Facebook, and listen to his podcast. This story was not subject to the approval of Major League Baseball or its clubs.