Harvey to start Friday; deGrom pushed back
Stiff neck leads to pitchers swapping scheduled outings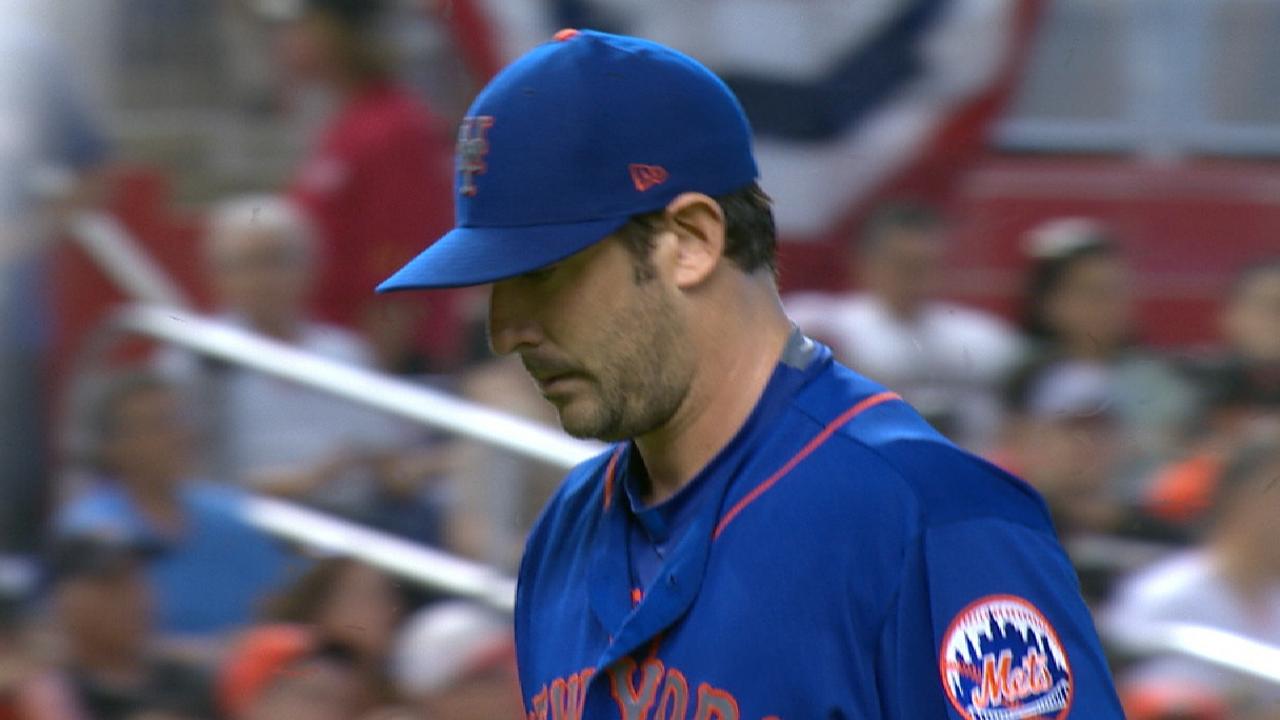 NEW YORK -- Jacob deGrom's stiff neck forced the Mets to shuffle their rotation for the first two games of this weekend's series against the Nationals, with Matt Harvey moved up to pitch on regular rest Friday night and deGrom pushed back to start Saturday.
"I'm completely fine looking to the right, but it's difficult looking to the left," deGrom said. "If I was left-handed, I think I could probably pitch."
deGrom said he's confident he'll be ready for Saturday's 4:05 p.m. ET game, but Mets manager Terry Collins said cautiously that the start was still "up in the air." Collins said left-hander Sean Gilmartin would start Saturday if deGrom can't go.
deGrom first felt the stiffness when he woke up Thursday, and he received treatment during the game against the Phillies. The training staff had him sleep in a neck brace, but when he woke up Friday, the stiffness hadn't eased enough to allow him to pitch.
"My goal is to stay healthy, and something like this happens," deGrom said. "Fortunately, I shouldn't have to miss a full turn."
deGrom has been impressive in his first three starts this season. The right-hander has a 1.89 ERA and 22 strikeouts in 19 innings, including 13 whiffs his last time out.
Harvey most recently pitched against the Marlins on Sunday. He went six innings and allowed two runs (one earned) while striking out five.
Danny Knobler is a contributor to MLB.com based in New York. This story was not subject to the approval of Major League Baseball or its clubs.