Mets' bullpen fading amid heavy workload
PHOENIX -- Starting the seventh inning Monday at 103 pitches, his highest total in any game since returning from Tommy John surgery, Zack Wheeler "knew it was probably going to be a short leash." But he wanted to continue, considering it another step in his "so far, so good" comeback attempt. And the Mets were near-desperate for him at least to try, all too aware of the state of their bullpen.
More and more, the Mets are leaning on their relievers as their starting pitchers hit the showers after six innings. More and more, those relievers are coming up short as well, most notably in consecutive blown leads last weekend in Milwaukee. That trend continued Monday night when, an inning after Wheeler's exit, the bullpen melted down for six runs in the eighth inning of a 7-3 loss to the D-backs.
"It's been hard," manager Terry Collins said. "But you've got to manage it anyway."
Collins is trying, even as his list of trusted relievers is shrinking. Monday's culprit was Hansel Robles, who allowed five runs -- including Yasmany Tomas' go-ahead three-run shot -- in two-thirds of an inning. That came two days after Robles gave up four runs to the Brewers; combined, those outings ballooned his ERA from 1.42 to 5.23, prompting Collins to say that "we certainly have got to take a good hard look at where he's going to fit."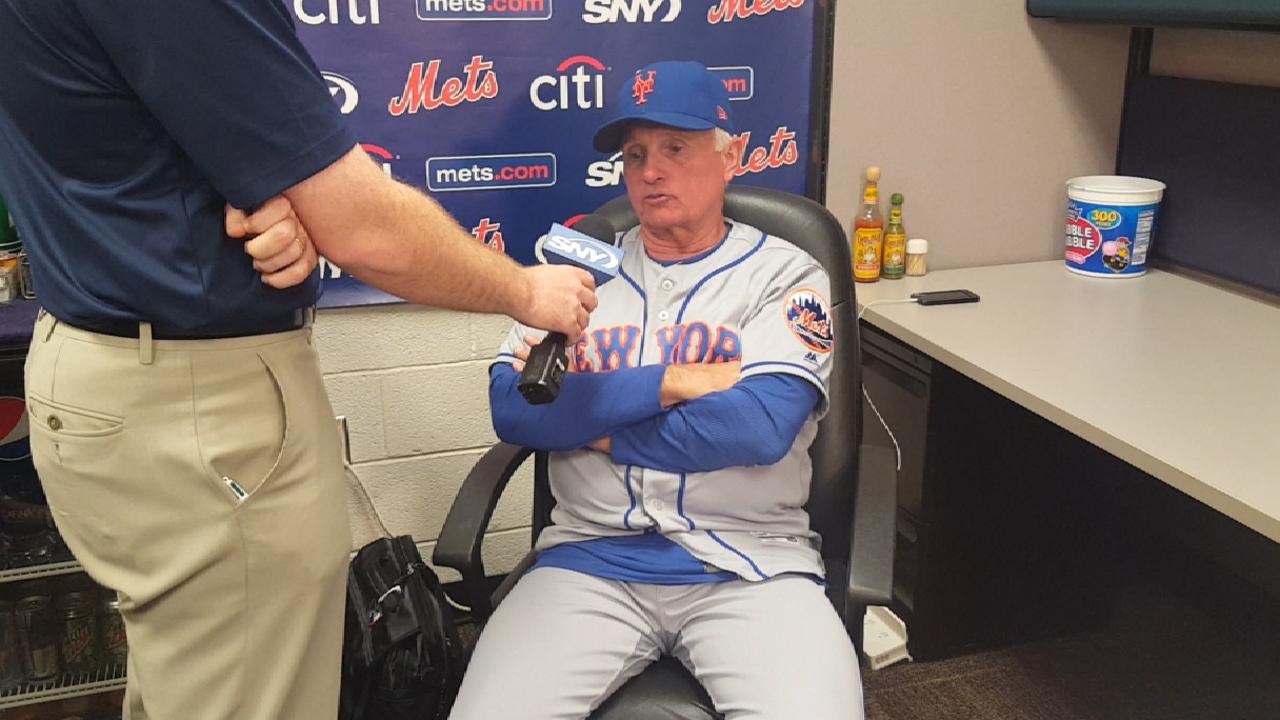 It is worth noting, however, that Monday's appearance was Robles' 20th in the Mets' first 37 games, making him one of the National League's 10 most frequently used relievers. The Mets have four relief pitchers in the top 10, including Jerry Blevins, who leads baseball with 22 appearances. Blevins, Robles, Addison Reed and Fernando Salas all also rank among the league leaders in usage on zero days' rest.
For the Mets, this is not a new trend, but an old one taken to an extreme. Last year, Reed finished second in the NL in appearances, shattering his previous career high by a dozen games. Jeurys Familia was fifth and Blevins was tied for 12th, though his 73 appearances resulted in only 42 innings.
Familia, who underwent surgery last week to repair an arterial clot in his pitching shoulder, leads the NL with 214 appearances since the start of 2014, though he won't be adding to that total anytime soon. Since Robles broke into the Majors in 2015, he is tied for 15th.
"It's not hard for me," Robles said of his heavy workload. "I always try to keep a positive mindset. Whether I do well or not, I try to stay positive."
That is becoming increasingly difficult for a Mets team that has lost five straight games, despite holding late leads in the majority of them. But Collins says there is little the Mets can do about it. Their starters have gone 15 consecutive contests without recording an out in the seventh, forcing the team to turn to their relievers for three full innings on a regular basis. And aside from Josh Smoker, whom the Mets banished to Triple-A Las Vegas last week due to poor performance, no relievers are opening eyes at Triple-A.
So the Mets will stick with a bullpen that has produced a 5.63 ERA in May, percentage points away from the NL's worst mark.
"Bullpens have become a huge part of the game, but they're best when you can use them one inning, a couple hitters, to get the matchups you want," Collins said. "If you overexpose them by going two innings or something else, that's when you're going to run into those problems. We've had to do that, and therefore we've run into some problems."
Anthony DiComo has covered the Mets for MLB.com since 2008. Follow him on Twitter @AnthonyDiComo and Facebook, and listen to his podcast. This story was not subject to the approval of Major League Baseball or its clubs.