Mets' misplay on steal of home proves costly
'Just bad baseball on my part,' Duda says of wide throw in D-backs' 4-run 3rd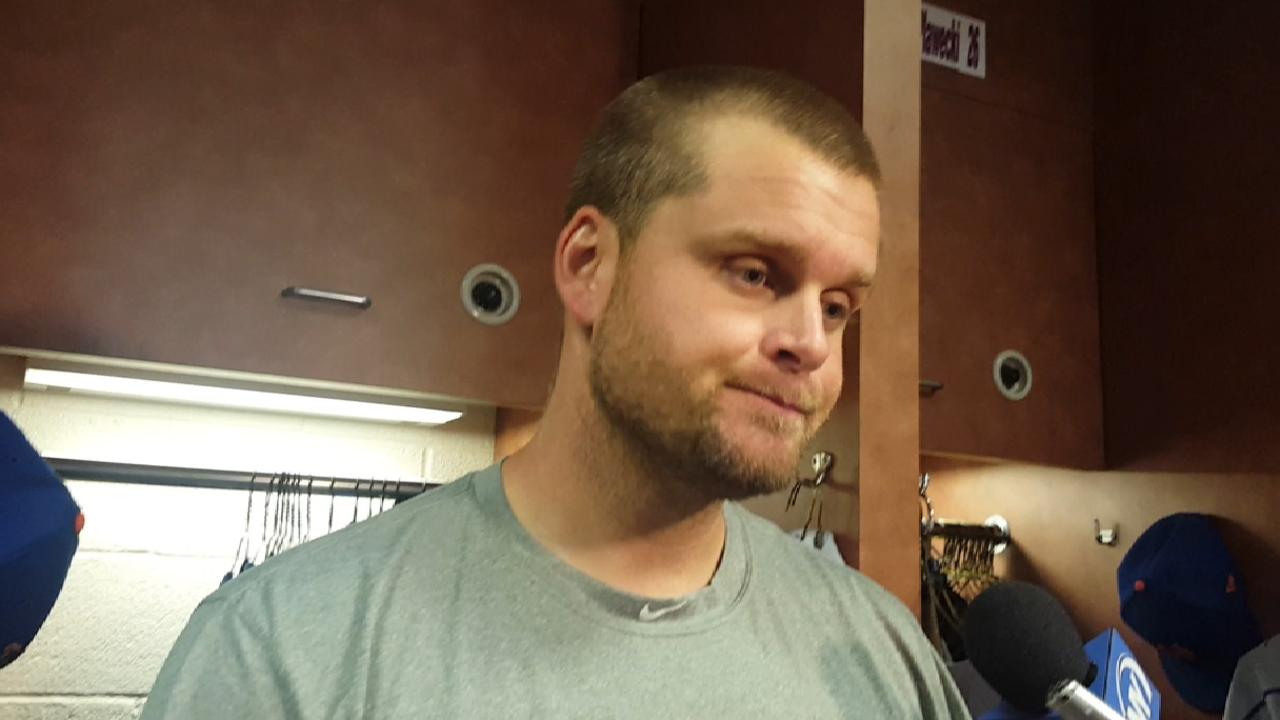 PHOENIX -- Neil Walker hesitated, his eyes following Paul Goldschmidt. Walker pumped-faked a throw home, reloaded, then faked again. All the while, he kept his eyes trained on Goldschmidt, finally throwing the ball a short distance to Mets first baseman Lucas Duda.
At that moment, Goldschmidt committed himself to home plate. Catching Walker's toss, Duda fired home, but well wide of the plate. Goldschmidt slid in with a steal of home, and the most dramatic run of the Mets' 5-4 loss Tuesday night to the D-backs.
"When things aren't going good," Mets manager Terry Collins muttered after the game, "nothing goes good."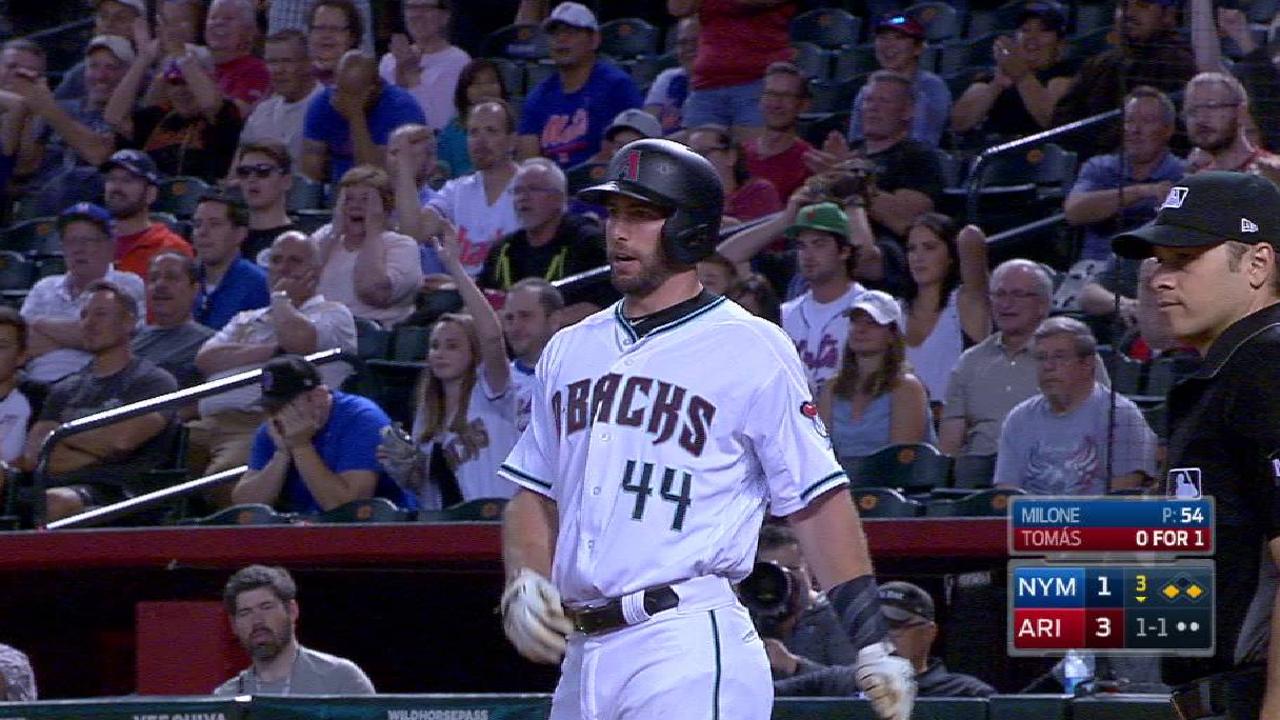 Afterward, Collins insisted that the Mets ran the play right, no matter how awkward it may have looked. With runners on the corners and two outs in the third inning, Owings broke for second base, where Walker received a strong throw from catcher Rene Rivera. Knowing he had little chance of taking the bag, Owings stopped in his tracks, retreating toward first base as Walker pursued him. That's when Goldschmidt began his dance off third base, venturing further down the line as Walker eyed him.
But at a time when almost nothing is going right for the Mets during a six-game losing streak, the play eventually shattered to pieces. The usually accurate Duda did not come close to nailing Goldschmidt at the plate.
"It boils down to I just made a poor throw," Duda said. "I've got to make a better throw. It's on me. If they don't score right there, it's a tie ballgame and who knows what happens from there. We might still be playing. So it's on me. I've got to clean it up. I've been bad at baseball for the last week. I've been terrible, but I've just got to clean it up. And I will. I think I will."
Since returning from the disabled list Friday in Milwaukee, Duda is batting .176 with five strikeouts in 17 at-bats, including a key whiff with runners on second and third and no outs in the second inning Tuesday. But as much as he attempted to heap blame on himself in the aftermath of another loss, Duda is far from the only culprit.
Starting pitcher Tommy Milone gave up five runs in 5 2/3 innings, becoming the 16th consecutive Mets starter to last six innings or fewer. The top three batters in New York's order, Michael Conforto, Jose Reyes and Jay Bruce, finished a combined 0-for-12 with six strikeouts. Even on a night in which their beleaguered bullpen offered 2 1/3 scoreless innings, the Mets could not win.
Worse, they committed an avoidable mistake on a play the D-backs admitted was not planned.
"[Goldschmidt] made a really good read as soon as Duda got the ball, got a good jump and ended up forcing a bad throw," Owings said.
Duda offered a different description.
"Terrible throw. Terrible. You can't really say anything else about it. Horrible," he said. "Just bad baseball on my part -- that's what it is."
Anthony DiComo has covered the Mets for MLB.com since 2008. Follow him on Twitter @AnthonyDiComo and Facebook, and listen to his podcast. This story was not subject to the approval of Major League Baseball or its clubs.