Matz's scoreless streak ends in rough start
Mets lefty frustrated after giving up 5 runs in 4 1/3 in first-half finale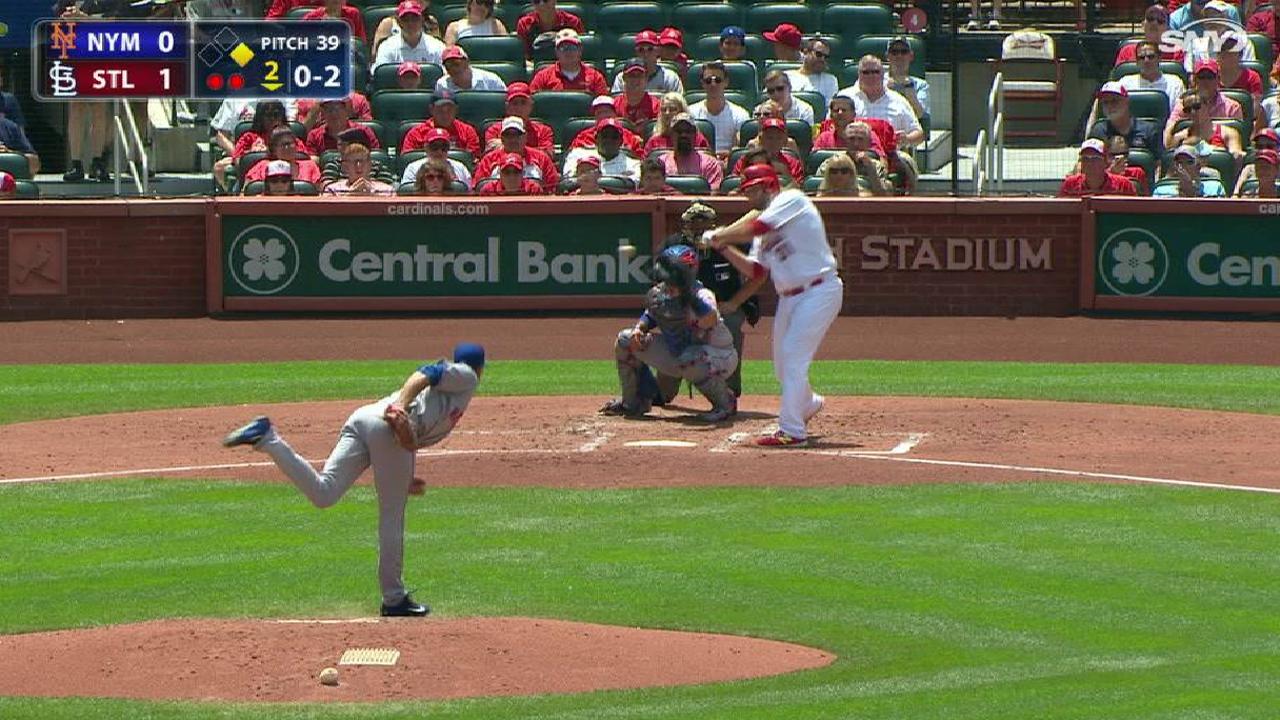 ST. LOUIS -- Steven Matz was frustrated with his final start before the All-Star break.
The Mets left-hander entered Sunday's start with a 17-inning scoreless streak, but quickly saw that come to an end, and not long after, saw his start unravel in a 6-0 loss to the Cardinals.
"There were just some poorly executed pitches and they capitalized on it," Matz said. "That's really what it came down to."
The Cardinals knocked around Matz for five runs and seven hits in just 4 1/3 innings, the first time in six starts he hasn't completed six innings.
"Obviously saw his command wasn't very good today," Mets manager Terry Collins said. "Up in the zone with most of his stuff. Falling behind in counts, which is not how he's pitched. Again, you are not going to be great every time out. Today, of all the times he's pitched, today was the one day he didn't have his good stuff, especially his command."
Two pitches did the most damage against Matz.
Tommy Pham smacked a 93-mph sinker up and away into the right-field seats for an opposite-field two-run homer in the third. In the fourth, Paul DeJong hit a high 93-mph sinker down the middle for a solo home run to left, his third homer and ninth hit of the three-game series. DeJong's blast made it 4-0.
"I got ahead on DeJong, 0-2, and the ball just kind of ran back over the plate," Matz said. "He's been really hot and you can't miss there."
Matz's day ended after he allowed back-to-back one-out singles to Pham and Dexter Fowler in the fifth, as Collins replaced him with Seth Lugo.
The lefty was visibly upset with being pulled from the game.
"I was just frustrated," Matz said. "It was just one of those days where we weren't executing pitches. You get frustrated sometimes."
The rough start before the All-Star break put a damper on what had otherwise been a successful stretch for the 26-year-old..
Matz was 2-1 with a 2.67 ERA in four starts in June and tossed seven scoreless innings in his first start this month, Monday in Washington.
"I've been feeling good," Matz said. "I really have been. I wasn't as sharp today, but overall so far being back I've been feeling good and I'm going to try to continue this in the second half."
Nate Latsch is a contributor to MLB.com based in St. Louis. This story was not subject to the approval of Major League Baseball or its clubs.