Smith thrilled to see Phils' Crawford debut
Duo from SoCal played together on Compton's Urban Youth Academy team
NEW YORK -- Among the scores of friends who reached out to Dominic Smith upon his big league promotion last month was J.P. Crawford, one of Smith's closest childhood friends. The two talk constantly, so this conversation was simple.
"It's about time," Crawford told Smith, before adding, "I'm going to see you soon."
"I know," Smith replied. "I can't wait."
Less than four weeks later, Smith, the Mets' No. 2 prospect according to MLBPipeline.com, was in the Mets' clubhouse barber shop when someone in the room told him Crawford, the Phillies' No. 4 prospect, had been promoted, and would debut Tuesday against the Mets at Citi Field. Smith immediately grabbed his phone to call his friend.
"He's like my brother," Smith said. "It's pretty surreal that this is really happening. We always envisioned stuff like this to happen, and now it's finally here. It's kind of like a dream."
Beginning at age 12, Smith and Crawford played together at Compton's Urban Youth Academy and on travel teams, and were teammates on the 2009 RBI World Series Junior Division Championship team. Their Southern California high school teams -- Smith is from Gardena, Calif., and Crawford from Lakewood -- also played against one another.
Along the way, both players developed into noteworthy prospects. The Mets selected Smith 11th overall in the 2013 Draft as a potential power-hitting first baseman, while the Phillies took Crawford five picks later as a slick-fielding shortstop. Then they climbed up their respective Minor League ladders, making their big league debuts within a month of each other.
"I can't wait to be on the field with him again," Crawford said before Tuesday's game. "I'm just going to get out there in the first inning and take it all in."
Crawford finished 1-for-5 in his debut, leading off the fifth inning with a single to record his first career hit and he made multiple slick defensive plays.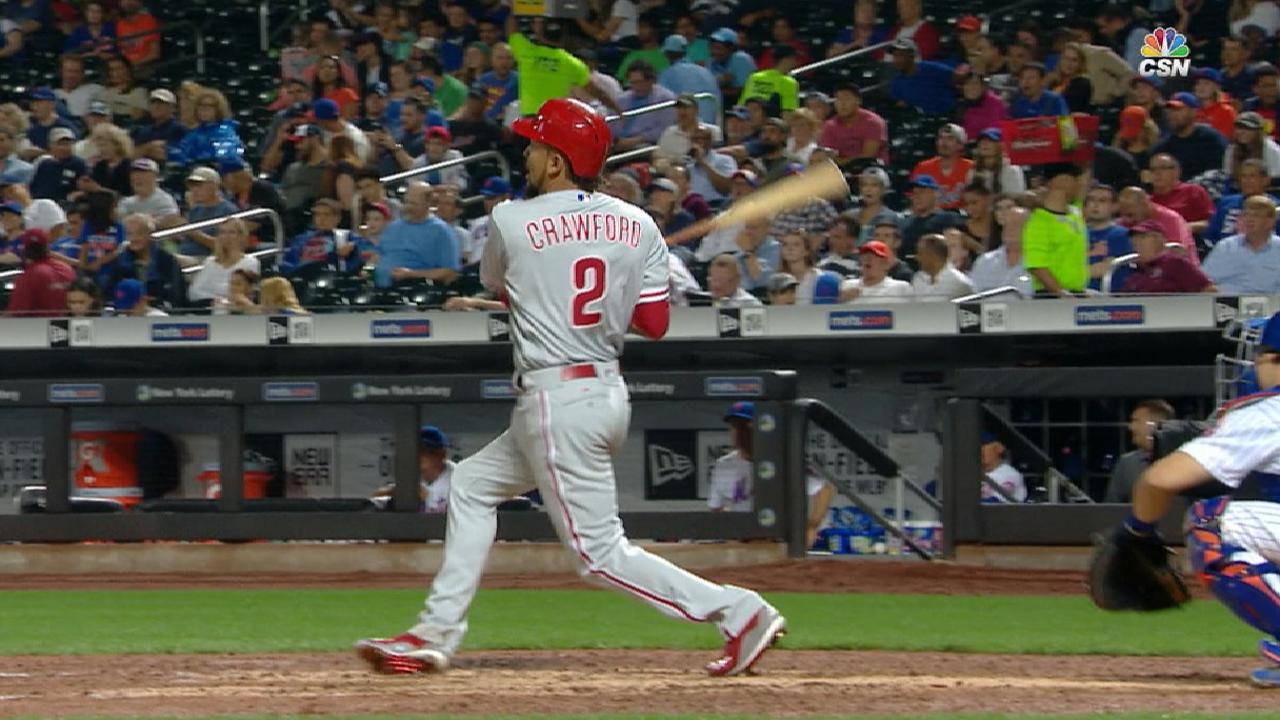 He also reached base in his first career plate appearance due to Smith, who committed a throwing error as he attempted to start an inning-ending double play.
It was a mistake that Smith, given his friendship with Crawford, probably had an easier time stomaching than usual.
"He's a good guy," added Smith. "I'm so happy for him because it's a big deal. It's a really big deal from where we come from. And for us to both be drafted in the first round and make it up the same year, and be division rivals, it should be exciting over the years."
It is a big deal, as Smith said, because only 10 members of the Compton Urban Youth Academy, which Major League Baseball founded in 2006 to provide safe and organized baseball opportunities to area children, have made the Major Leagues. But the number is beginning to grow exponentially, thanks to Smith, Crawford, Khris Davis, Vince Velasquez, Aaron Hicks and others.
The program not only provided baseball training for those players, but also building blocks for lifelong friendships. Crawford called Smith, "One of my best friends." The two planned to go out together to catch up following Tuesday's game.
"This is what we worked so hard for over the years," Smith said. "For it to finally be here is definitely a sigh of relief. But we know it's only the beginning."
Anthony DiComo has covered the Mets for MLB.com since 2008. Follow him on Twitter @AnthonyDiComo and Facebook. This story was not subject to the approval of Major League Baseball or its clubs.