Inbox: Has Nimmo earned spot with Mets in '18?
Beat reporter Anthony DiComo answers fans' questions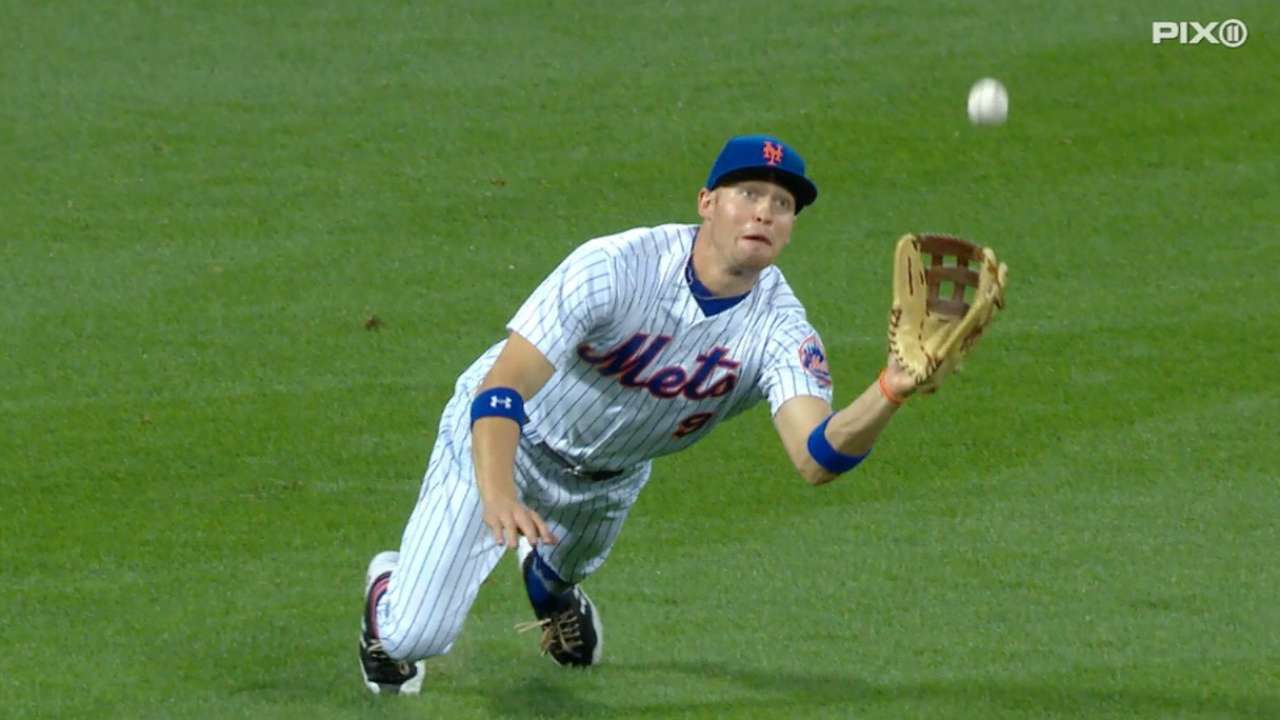 As the season winds down, roster issues continue to take center stage in Flushing. Plenty of players are jockeying for position heading into the offseason, knowing performance down the stretch can often be more impactful than performance in Spring Training.
Several players in particular have a lot on the line in September. This week's Mets Inbox takes a look at some of their situations.
• Submit a question to the Mets Inbox
Does Brandon Nimmo already have a spot on 2018 roster?
-- @Gmanfandan via Twitter
One of my favorite late-season statistics is Nimmo's walk rate, which has reached 17.3 percent in a no-longer-tiny sample of 139 plate appearances. To put that into context, only Mike Trout, Joey Votto and Aaron Judge have walked more frequently among qualified Major League hitters.
Walking isn't everything, of course, but Nimmo has also demonstrated improvement across the board, showing a little bit of power, a little bit of speed and an ability to hold down a corner outfield spot defensively (the jury's still out on center). Altogether, it's a nice package -- maybe not what the Mets envisioned when they drafted Nimmo 13th overall back in 2011, but certainly the type of thing that can play at the big league level.
At this point, yes, I think Nimmo has done enough to earn a spot alongside Michael Conforto, Yoenis Cespedes and Juan Lagares on the 2018 roster. If you recall, Nimmo would have made this year's Opening Day roster had he not injured himself in the World Baseball Classic. He's done nothing since then to hurt his stock.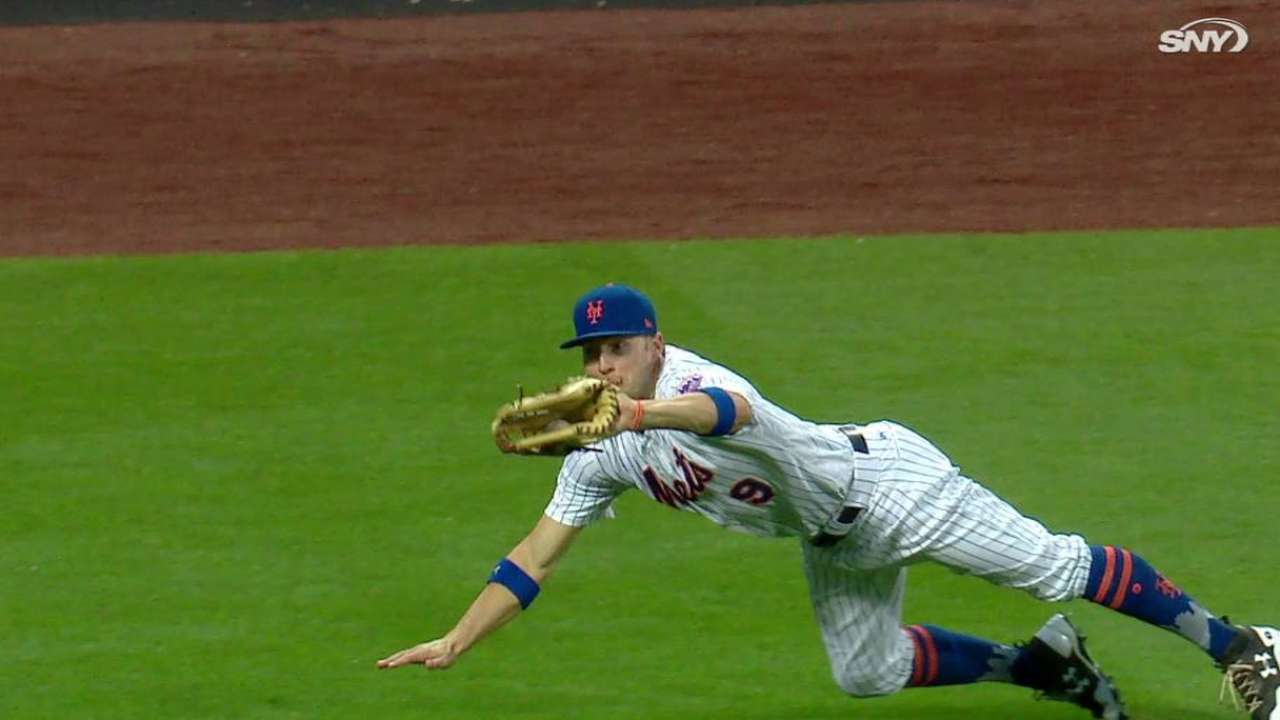 I don't, however, foresee Nimmo earning more than a reserve role by late March. New York will almost certainly acquire an everyday outfielder (Jay Bruce?) this offseason, pushing Nimmo to the bench. But if Conforto's recovery from surgery lasts into the regular season, a Nimmo-Lagares platoon in center would be an easy short-term fix for the Mets.
How do you think Josh Smoker fits in with the bullpen in 2018? He's very silently dealt since coming off the disabled list, and he could make a good long man.
-- @jack_hendon99 via Twitter
Smoker has not won himself a job. But after 15 consecutive scoreless outings without an earned run, he has at least inserted himself back into the conversation. Over the past five weeks, Smoker has lowered his ERA from 7.32 to 5.51, and while ERA is generally not a strong indicator of reliever success, it highlights the improvements he has made to his game. Smoker hasn't walked a batter in September, leaning a bit more on his curveball and a bit less on his splitter. Left-handed hitters, who smacked Smoker around for a .310 average before his scoreless streak began, have hit .217 against him over the past month.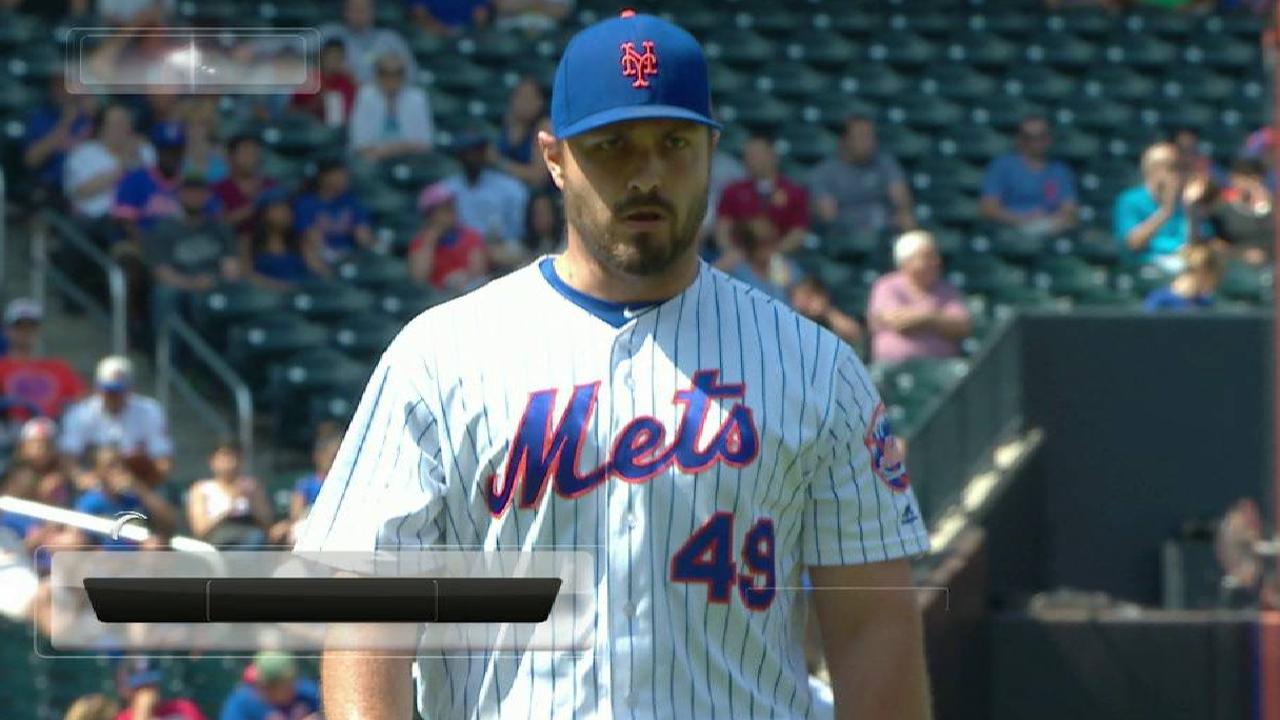 Smoker may not have done enough to earn a guaranteed job in the 2018 bullpen, with Jeurys Familia, AJ Ramos, Jerry Blevins, Hansel Robles, Paul Sewald and a host of other candidates also vying for work. But with a strong spring, he'll have a chance to make the team -- something I wouldn't have said just one month ago.
Is Rafael Montero pitching his way into the 2018 rotation?
-- @markadoo328 via Twitter
I honestly don't think so. Montero has been on a nice run lately -- nice enough to remain on the organization's radar, potentially in a swingman role next season. But in the Opening Day rotation? One month of a sub-4.00 ERA isn't nearly enough to warrant that consideration.
Noah Syndergaard and Jacob deGrom are guaranteed roles in the 2018 rotation -- that much is clear. If Matt Harvey is healthy, it's difficult to see him losing a spot. General manager Sandy Alderson has already hinted at his desire to acquire a veteran starter, which would suck up another job. That leaves just one place for Steven Matz, Zack Wheeler, Robert Gsellman or Seth Lugo. I just can't see Montero doing enough to enter that mix. Even over his run of success, he's still walking more than five batters per nine innings, which is unacceptable for a big league pitcher.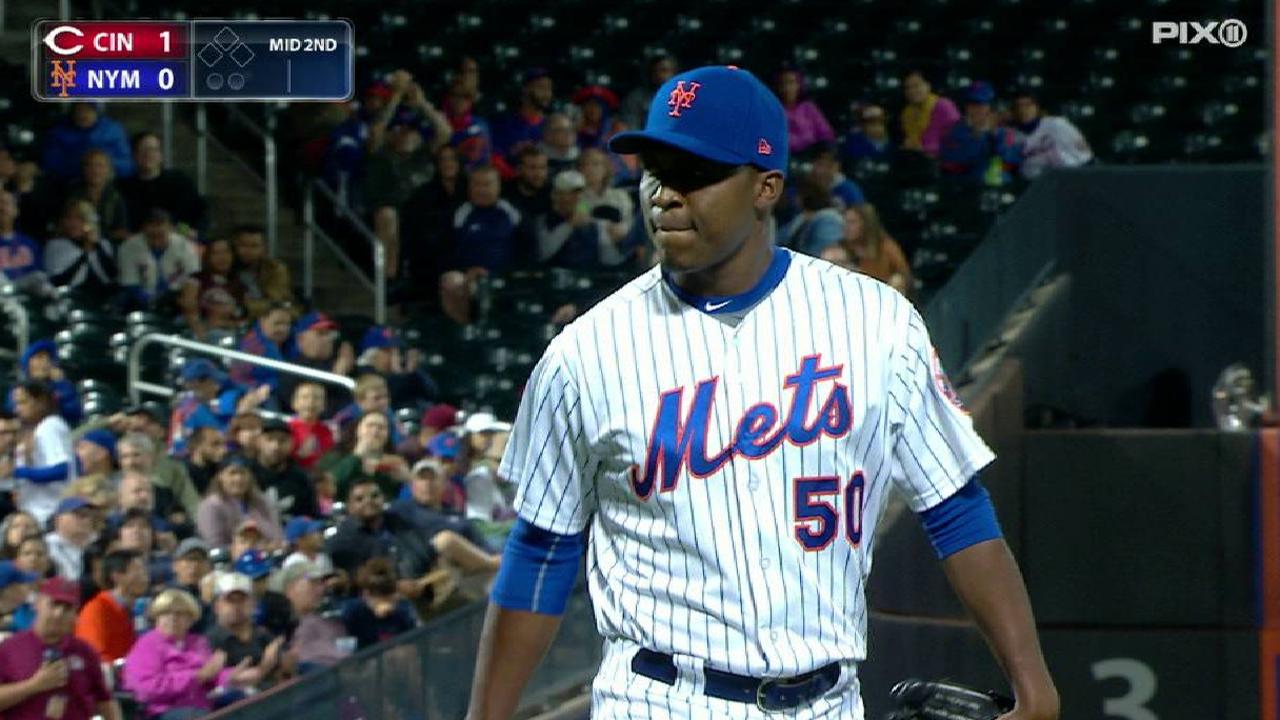 Why don't the Mets put Cespedes, Conforto, Wheeler, Wilmer Flores and T.J. Rivera on the 60-day DL so they can bring up more players?
-- @FiddleElphier via Twitter
Because at some point, crowding the clubhouse with players who aren't going to see the field becomes counterproductive. The Mets want to see as much as possible of Dominic Smith, Amed Rosario, Gavin Cecchini, Nimmo and others, without taking too much playing time away from the veterans left on board. Even now, it's all they can do to juggle the pieces on a daily basis.
Plus, there's a practical element. Say New York wanted to add, for example, first-base prospect Peter Alonso as a September callup. He's not on the 40-man roster, and he's unlikely to make the team next spring. By adding Alonso to the 40-man now, the Mets would be forced to keep him there for all of next season, handicapping their flexibility going forward.
????????? Mets' Top 30 Prospects
It's a different scenario for players (Smith, Rosario) likely to make the team next year, those (Kevin McGowan) already on the 40-man roster and those (Jamie Callahan) the Mets would need to add soon anyway to protect from the Rule 5 Draft.
Who has the most coherent voice of the players in the clubhouse?
-- @LFNJSinner via Twitter
This is an interesting question considering so many of the team's outspoken leaders -- Neil Walker, Jay Bruce, Curtis Granderson -- are gone. David Wright remains the captain and an important clubhouse influence, but he isn't around as much as the Mets would like him to be. That's left a bit of a leadership vacuum in the clubhouse.
Typically, relievers don't take on the most significant clubhouse leadership roles, but Jerry Blevins has bucked that trend as a thoughtful player who cares about on- and off-field issues alike. AJ Ramos has also, in his first month with New York, emerged as a well-spoken voice in the room.
Jose Reyes is one of the most engaging personalities I've ever seen in a big league clubhouse, both with the media and amongst his peers. The stories about him helping out Rosario are not hyperbole; the two are nearly inseparable. And the Mets seem to have a young corps of thoughtful players coming up in Rosario, Smith and Nimmo, the latter of whom talks more in an hour than I do in a day. All three of them could soon become important clubhouse voices.
Anthony DiComo has covered the Mets for MLB.com since 2008. Follow him on Twitter @AnthonyDiComo and Facebook. This story was not subject to the approval of Major League Baseball or its clubs.