Lugo to face Tseng, who makes debut in finale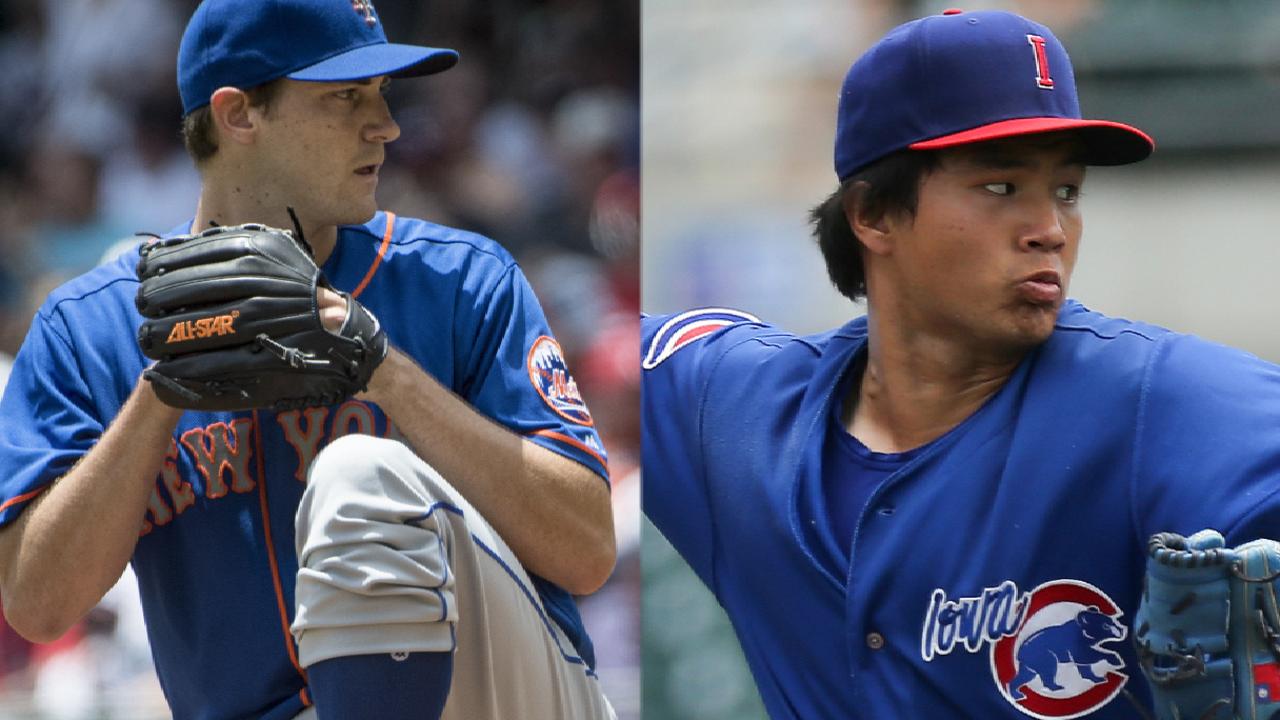 Jen-Ho Tseng thought he was coming to Wrigley Field this week to accept a Minor League award. Instead, he found himself smack in the middle of a pennant race, scheduled to make his big league debut Thursday as the Cubs eye a sweep of the Mets at Wrigley Field.
Cubs manager Joe Maddon surprised Tseng, who was a combined 13-4 with a 2.54 ERA in 24 starts between Double-A Tennessee and Triple-A Iowa, when he told him Wednesday that he would make the start at Wrigley. Tseng will debut opposite Mets right-hander Seth Lugo.
"This guy is a really good command pitcher," Maddon said of Tseng, a Taiwan native. "He throws high 80s to low 90s [mph], with a little more velocity, kind of like Kyle [Hendricks] and has a really good changeup. He knows what he's doing out there. I spoke to him, and he didn't overreact at all. I kind of liked it."
After a 17-5 rout Wednesday night, the first-place Cubs held a 2 1/2-game lead over the Brewers and a three-game lead over the Cardinals in the National League Central.
Lugo, who debuted last year during the Mets' run to the National League Wild Card Game, understands as much as anyone what Tseng will be feeling on the Wrigley Field mound. In three starts since coming off the disabled list this season, Lugo is 1-1 with a 3.68 ERA.
Lugo still has elite spin on his curveball -- his average spin rate is 3,065 rpm this season -- but it's not quite at the level he was at in 2016, when his curve averaged a Major League-leading 3,318 rpm. This year, his curveball "only" ranks as the third-highest-spin in the Majors.
Three things to know about this game
• The Cubs' originally scheduled starter, Mike Montgomery, will head to the bullpen to make room for Tseng. Part of the Cubs' reasoning for promoting Tseng, according to Maddon, was that the team needed help in the bullpen more than it did in the rotation. "Monty is so versatile and was amenable," Maddon said of Montgomery.
• Mets manager Terry Collins hinted that the Mets will proceed cautiously down the stretch with Lugo, who has pitched all season with a partially torn ulnar collateral ligament in his right elbow. Lugo has not thrown more than 84 pitches in an outing since the Mets activated him from the disabled list on Aug. 27.
• Mets infielder Jose Reyes, who led off Wednesday's game with a home run, is tied with Darryl Strawberry for the second-most extra-base hits (469) in franchise history. David Wright is first with 658.
Anthony DiComo has covered the Mets for MLB.com since 2008. Follow him on Twitter @AnthonyDiComo and Facebook. This story was not subject to the approval of Major League Baseball or its clubs.