Mets purchase Triple-A Syracuse Chiefs
New York to move affiliate from Las Vegas to upstate NY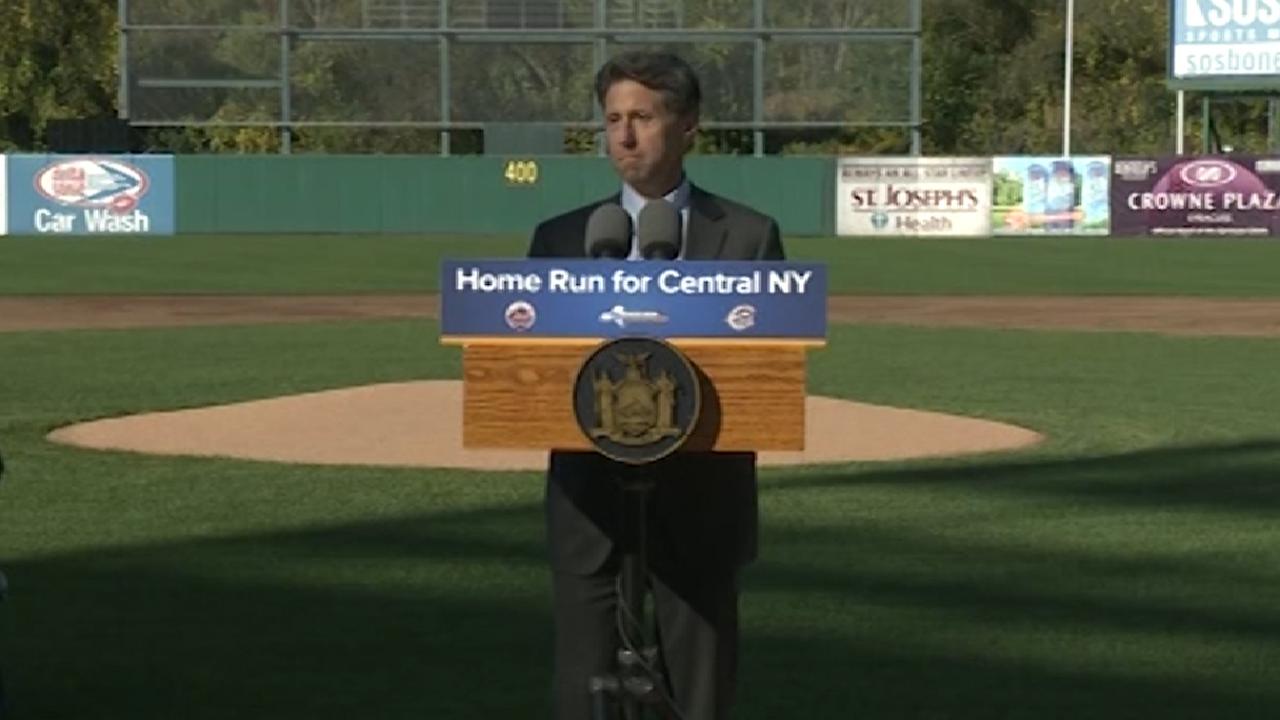 NEW YORK -- The logistical challenges of fielding a top Minor League affiliate more than 2,500 miles from home are about to end for the Mets.
The Mets closed on a deal Tuesday to purchase the Syracuse Chiefs, with plans to move their Triple-A affiliate there in 2019. The deal's operating agreement with New York State and Onondaga County runs through 2025, and will force the Nationals to vacate their Triple-A team from Syracuse after the 2018 season.
"This partnership will help attract new and old fans alike, and support economic growth in the Syracuse community for years to come," New York Gov. Andrew Cuomo said in a statement. "It is a home run that ensures the Chiefs stay right where they belong while the next generation of amazin' greats is fostered right here in Central New York."
For the past five seasons, the Mets have anchored their top affiliate in Las Vegas, in part because of a lack of available partners close to New York City. That changes with the franchise's purchase of Syracuse, which plays its home games at NBT Bank Stadium -- roughly 260 miles from Citi Field. The Mets currently have the greatest geographical spread in baseball between their big league and Triple-A parks, but will fall to the middle of the pack once they move.
During the past five seasons, that distance has created challenges for the Mets, who have relied on frequent red-eye flights when calling up players. On some occasions, the Mets have been unable to recall injury replacements on short notice, instead playing games shorthanded. In addition to Cashman Field's distance from New York, the extreme hitter-friendly atmosphere at Las Vegas has made scouting and evaluation difficult for the Mets.
Before moving to Las Vegas, the Mets' Triple-A affiliate was located in Buffalo, N.Y. But the Bisons switched allegiances to the Blue Jays after the 2012 season, leaving the Mets without an obvious home. They were shoehorned into Las Vegas, where they subsequently renewed their partnership twice.
The Mets' Double-A affiliate is located nearby in Binghamton, N.Y., and one of their Class A affiliates is in Brooklyn.
"With Syracuse's rich history and love of baseball, the Mets purchasing the Syracuse Chiefs is a grand slam for the entire community," New York Sen. Chuck Schumer said in a statement. "Soon the world will see just how deep the love of baseball runs in Upstate New York, between Binghamton's Rumble Ponies and now the Syracuse Chiefs being owned and operated by the Mets, today is truly a bright day for baseball fans far and wide."
The Chiefs' sale comes shortly after Mets general manager Sandy Alderson's prediction of a "shakeup" at Las Vegas, saying he was disappointed with the readiness of Mets prospects who came to New York this past summer. The Mets have already dismissed hitting coach Jack Voigt, and are reportedly set to replace manager Pedro Lopez with Tony DeFrancesco, who is currently in the Astros organization. Pitching coach Frank Viola's status is also unclear.
Anthony DiComo has covered the Mets for MLB.com since 2008. Follow him on Twitter @AnthonyDiComo and Facebook. This story was not subject to the approval of Major League Baseball or its clubs.