Strawberry's Montreal home run stuff of legend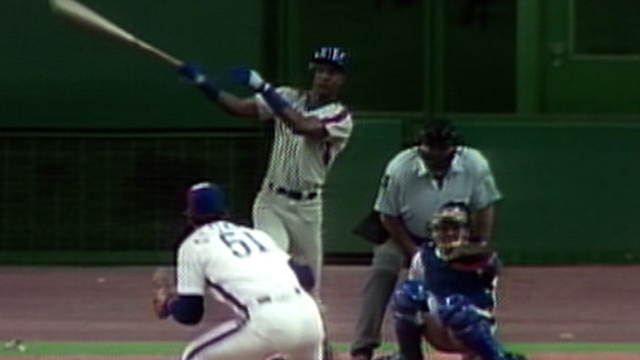 PORT ST, LUCIE, Fla. -- A silver anniversary obscured somewhat by time, lack of clear video evidence and the absence of the Montreal Expos approaches. Twenty-five years ago on April 4, Darryl Strawberry hit the roof in Montreal.
The Mets played the Expos on Opening Day, 1988. They hit six home runs and won, 10-6. Strawberry was responsible for the first, the highest and what would have been the longest home run had the cement rim of Olympic Stadium not interfered with its flight. His first homer that day came in the second inning against Dennis Martinez and was rather pedestrian for Strawberry. The second one collided with the ballpark where no pedestrian could reach.
The Expos' pitcher was Randy St. Claire, a right-handed reliever who subsequently pitched for four other clubs and served as Expos-Nationals pitching coach for 6 1/2 seasons, and Marlins pitching coach from 2011-12. His current position is pitching coach with the Mets' Triple-A Las Vegas affiliate. He is in camp these days.
Now, some pitchers are proud when they've played a role in a monster home run. Al Jackson, here working with the Mets, loves to speak of the home run he surrendered to Willie McCovey in St. Louis in the 1960s. Johan Santana isn't at all insulted when the home run Adam Dunn hit against him in 2009 -- it reached the Shea Bridge well beyond the right-center-field wall -- is mentioned.
Other pitchers prefer to forget.
St. Claire is in between "Six inches over the fence or a lot farther ... it makes no difference," he said on Tuesday morning. "I couldn't care less."
Of course, he recalls Strawberry's home run. "Three-one fastball," he said. But he also notes that the point of impact, well above the playing surface, was not beyond the plane of the right-field wall. "Where it hit probably was 25 feet inside the wall."
Where it was headed probably would have required a stop in customs.
"I remember it. Straw killed it," Wally Backman said.
Backman will manage the Las Vegas team. "You know. that home run might just come up once or twice this year."
Marty Noble is a reporter for MLB.com. This story was not subject to the approval of Major League Baseball or its clubs.