Harvey finishes strong after in-game adjustments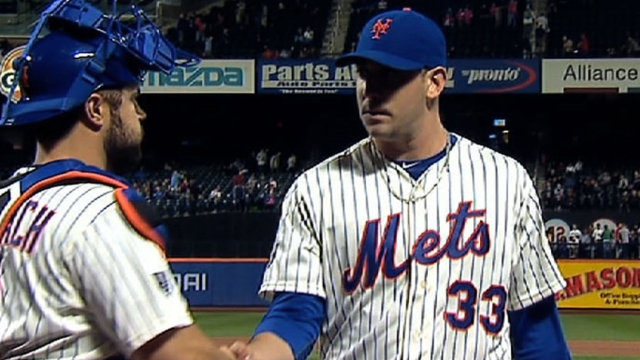 VIERA, Fla. -- Matt Harvey still clearly recalls the booming home run Jayson Werth hit off him here one year ago, on a night when Space Coast Stadium seemed aptly named.
"I don't know if it's landed yet," Harvey quipped Wednesday, reflecting on the five runs he allowed in one inning against the Nationals that night.
A similar fate awaited Harvey early in his return to Viera, where Bryce Harper launched a long three-run shot over the right-field wall. But this time, Harvey recovered, retiring 12 of the final 14 batters he faced on six strikeouts, five groundouts and a flyout.
"He had a tough time here last year, so we wanted to see how he handled things in the second inning," manager Terry Collins said. "He went out there in [innings] two, three and four and pitched very well."
Harper's home run turned into nothing more than a blip for Harvey, whose spring ERA rose to 2.77 ERA, with 18 strikeouts against three walks in 13 innings. Catcher Travis d'Arnaud said Harvey's front side was "flying open" early in Wednesday's game, but the right-hander was able to correct that after the first inning.
Aside from helping Harvey, that knowledge seemed to be the latest evidence of a growing relationship between pitcher and catcher.
"I can see it a little easier than before," d'Arnaud said of Harvey's in-game adjustments.
Anthony DiComo is a reporter for MLB.com. Follow him on Twitter @AnthonyDicomo. This story was not subject to the approval of Major League Baseball or its clubs.