Johan clears air with Mets: 'We're in this together'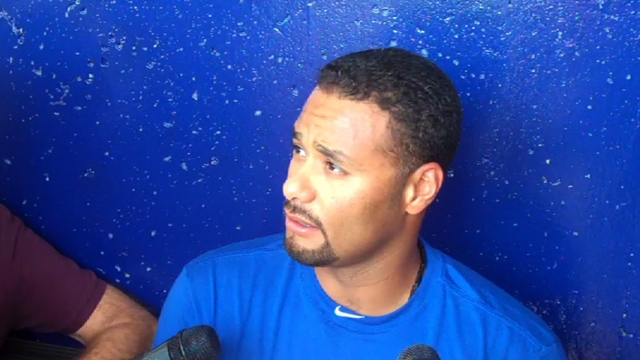 VIERA, Fla. -- Johan Santana broke his silence on Tuesday to proclaim harmony with the Mets, saying he is "on the same page" with the team as he continues to overcome his left shoulder weakness.
"We are in this together," Santana told reporters in Port St. Lucie, Fla. "We want to do this together from top to bottom."
Referencing a recent conversation with general manager Sandy Alderson, Santana said the two cleared the air over any disagreements they may have had. The two-time Cy Young Award winner seemed to take offense when Alderson criticized his unpreparedness for Spring Training earlier this month, throwing a surprise bullpen session the next day and bristling when reporters asked about it.
He and Alderson met several days ago and, according to Santana, erased any lingering ugliness. The GM described a more nuts-and-bolts discussion, saying it centered upon Santana's workout plan.
"If that was clearing the air, that was clearing the air, I guess," Alderson said.
As for the plan going forward, both Alderson and manager Terry Collins are content to let Santana dictate his own throwing program. Collins admitted that Santana is still "not too close" to returning to a mound, giving him little chance to be ready for Opening Day. But Collins did express optimism that Santana can still pitch during the first week of the season, even if he begins it on the disabled list.
"He's the only source we have as to how he feels," Collins said. "We'll see where he's at come 10 days from now."
Assuming Santana is not ready to go on April 1, Jon Niese will take the ball against the Padres at Citi Field. Should Santana miss any additional time, Jeremy Hefner is preparing to slide into the rotation.
Anthony DiComo is a reporter for MLB.com. Follow him on Twitter @AnthonyDicomo. This story was not subject to the approval of Major League Baseball or its clubs.