Southpaw trio vying for non-guaranteed 'pen job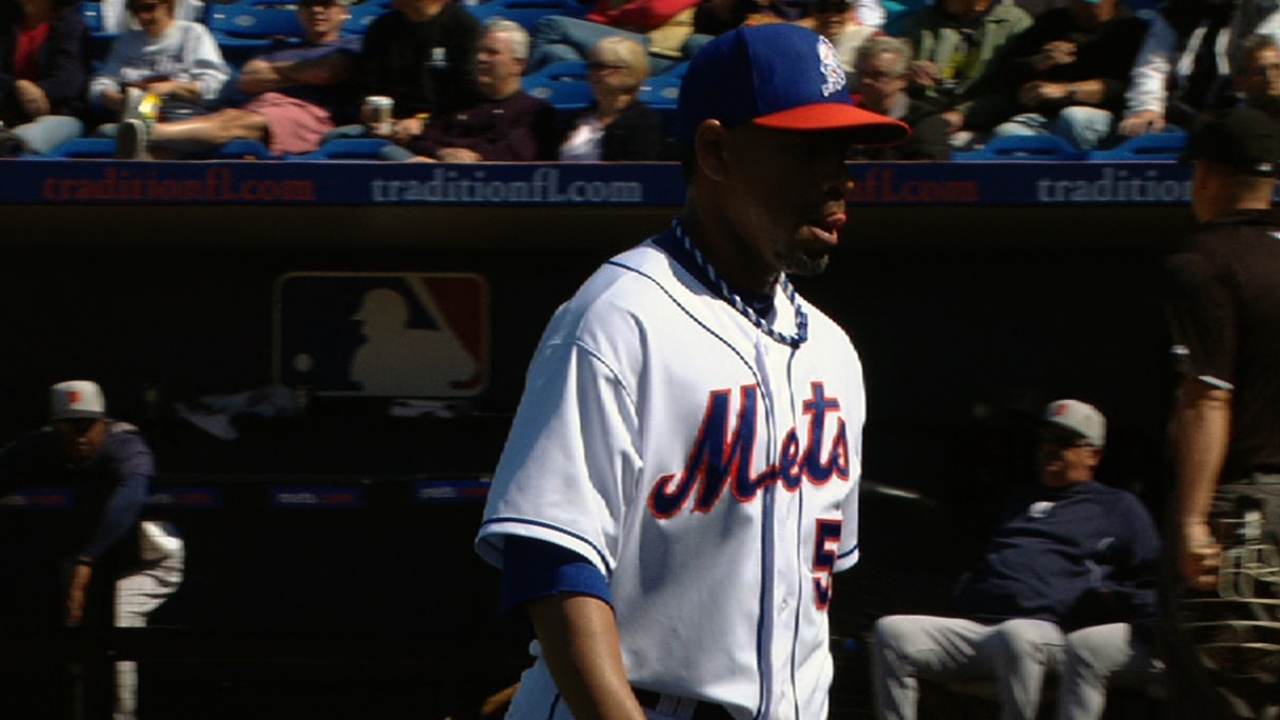 PORT ST. LUCIE, Fla. -- Three lefty relievers remain in competition to break camp with the Mets, though there is an outside chance that none of them will make the roster.
Pedro Feliciano, Scott Rice and Robert Carson all fired scoreless innings in Thursday's 9-1 loss to the Tigers, keeping them afloat in the race to join fellow left-hander Josh Edgin in the Opening Day bullpen. The Mets recently demoted rookie Darin Gorski to Minor League camp, and plan to stretch Aaron Laffey out as a starter, leaving Feliciano, Rice and Carson to battle for a maximum of one spot.
"There are certainly some things they've got to get better at," manager Terry Collins said. "Time is starting to run out, but yet we've still got enough days to get those guys some more innings."
Carson had not thrown a clean inning all spring until Thursday. And his performance at Tradition Field, which came against a quartet of Tigers Minor Leaguers, only lowered his Grapefruit League ERA to 5.63. Though Carson has the built-in advantage of a 40-man roster spot, the Mets will not place him on the Opening Day roster for that reason alone.
Rice, a 14-year Minor League veteran who has never cracked the Majors, has impressed the Mets throughout the first half of camp. Following the lefty's scoreless inning on Thursday, executive J.P. Ricciardi stopped by his locker to congratulate him, lauding the sink on his fastball. But Rice is not on the 40-man roster, and will need to do more for the Mets to consider adding him.
The final left-hander vying for a job is Feliciano, another non-roster invitee, who has rebounded from a health scare to pitch two scoreless spring innings with a heart monitor strapped to his chest. But coming back from shoulder surgery, Feliciano's velocity has yet to rise from the low-80s, a range that even he admits must improve -- if only slightly.
"Tom Glavine and Greg Maddux threw low 90s, high 80s always," Feliciano said. "For me, I just want to be 85, 86, like I was before, maybe 86, 87, 88. As long as I can perform and get some outs, I don't care about velocity."
Because a 40-man roster crunch looms at the end of Spring Training, there is a chance the Mets may forego a second lefty altogether and carry right-hander Jeurys Familia on the Opening Day roster. Familia has been untouchable for five straight Grapefruit League outings since struggling in his debut, giving up a total of one hit and one walk. His continued success could make the lefty competition moot.
But Collins still craves a second left-hander to reduce Edgin's workload. For now, three candidates remain with no guarantees for any of them.
Anthony DiComo is a reporter for MLB.com. Follow him on Twitter @AnthonyDicomo. This story was not subject to the approval of Major League Baseball or its clubs.