Mets shut down Mejia indefinitely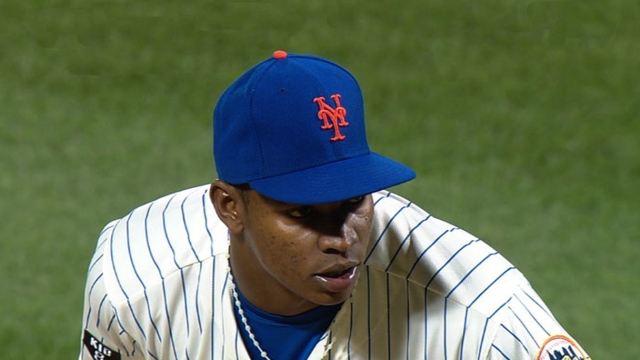 LAKE BUENA VISTA, Fla. -- The Mets have shut down right-hander Jenrry Mejia indefinitely because of tendinitis in his right forearm, though there is no structural damage and the team does not consider the injury serious.
"He's feeling better day by day," manager Terry Collins said, "but he's certainly not going to pitch for a few days."
It has been a rough camp for Mejia, whose arrival from the Dominican Republic was delayed more than a week due to visa issues. The former top prospect appeared in one game, giving up five runs in an inning, then flew to New York for an examination of what turned out to be a hyperactive thyroid.
Mejia returned to Florida and pitched once more, this time firing a scoreless inning of relief, but he will not throw again this weekend as originally scheduled.
As a result of his inactivity, Mejia is sinking down the depth chart. Once considered an option to open the season in the rotation, Mejia was bumped to a likely Minor League role after the Mets signed Shaun Marcum. He has since drifted behind Jeremy Hefner and veteran left-hander Aaron Laffey.
Anthony DiComo is a reporter for MLB.com. Follow him on Twitter @AnthonyDicomo. This story was not subject to the approval of Major League Baseball or its clubs.