Turner joins Wright on injury list with ankle sprain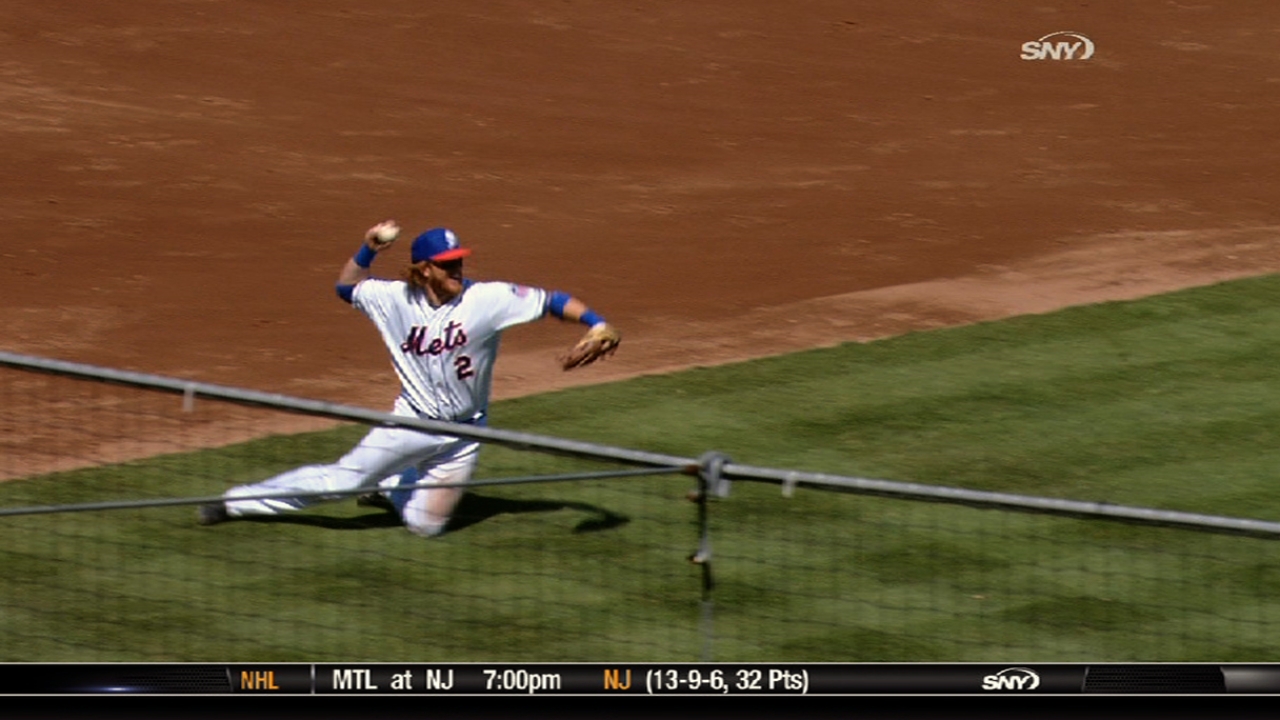 PORT ST. LUCIE, Fla. -- The Mets' third base depth chart is suddenly not so deep.
With David Wright already uncertain for Opening Day, Justin Turner sprained his right ankle Saturday while filling in at third base for the Mets. Catching his spike on the lip of the infield grass as he attempted to corral Marlins outfielder Justin Ruggiano's infield single, Turner stumbled to the ground and remained there several moments. He eventually limped off under his own power.
An initial examination at Tradition Field revealed a right ankle sprain, which Turner classified as "not too bad." His limp had largely disappeared by the middle innings, even before Turner left the complex for precautionary X-rays at a local hospital.
With Wright shut down from physical activity for the next 3-5 days, Turner had been the leading candidate to replace him at third base. Manager Terry Collins said earlier that he planned to give Turner significant playing time at the position because second base had been his primary defensive home this spring.
But now that Wright and Turner are both sidelined, Zach Lutz and Brandon Hicks are the main candidates to take over at third.
"You can't get discouraged," Collins said. "You can't get down. You've got to get yourself playing for the next day. If [Turner] can't play tomorrow, we've got to find somebody else."
Wright, who strained a left intercostal muscle during the World Baseball Classic, was scheduled to return to Mets camp Saturday evening. But he will not attempt any physical activity until at least early next week, putting his Opening Day availability in doubt.
The primary third baseman when Wright missed two months with a stress fracture in his lower back in 2011, Turner hit .264 with one home run during Wright's absence. Given far less playing time a year ago, he hit .269 with two home runs in 171 plate appearances all season.
Turner appeared at third base just 11 times last year, but earned significant experience at the position during Spring Training and winter ball. Asked earlier Saturday how he felt about potentially replacing Wright, Turner shrugged.
"Someone's got to do it if he's not there," he said.
But if Wright and Turner are both absent, as Collins noted, someone else must man the position. That may be Lutz, who is batting .344 this spring and will start at the hot corner Sunday. A third baseman throughout most of his time in the Minors, Lutz has recently played more first base and outfield in an attempt to increase his versatility; with Wright under contract through 2020, Lutz understands that his future in the organization may depend upon his ability to play other positions.
"It's hard having someone like David Wright go down due to injury," Lutz said. "I just prepare every day to go out there. If [Collins] calls my name to go out there and play third base, I've got to feel prepared that I can go out there and do the job right."
Anthony DiComo is a reporter for MLB.com. Follow him on Twitter @AnthonyDicomo. This story was not subject to the approval of Major League Baseball or its clubs.