Murphy could be out past Opening Day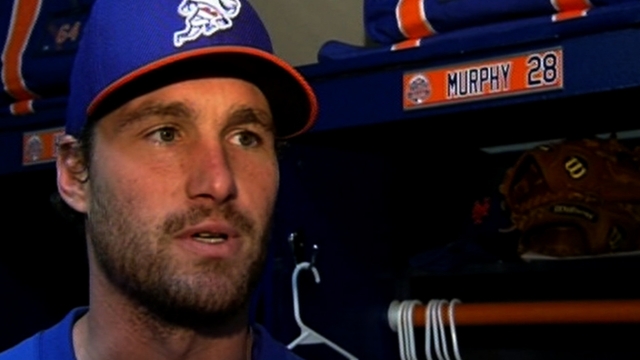 PORT ST. LUCIE, Fla. -- For the first time all spring, the Mets are considering the realistic possibility that second baseman Daniel Murphy will not be ready for Opening Day.
Murphy backed off his rehab program for a second straight day on Sunday, with continued midsection stiffness keeping him off the playing field. Originally scheduled to participate in Minor League games this weekend, Murphy has not seen any action since playing five defensive innings in a Minor League game Friday.
"He's pretty stiff again today, so [trainer] Ray [Ramirez] just said we'd better back him off probably through the day off," manager Terry Collins said, referencing Tuesday's scheduled team off day. "We'll see how he is on Wednesday when we get back."
But time is growing thin. Murphy has yet to appear in a Grapefruit League game due to the strained right intercostal muscle he suffered in mid-February, and will need at least a week's worth of games to prepare for Opening Day.
If he is not ready to play by next weekend, Murphy stands a good chance of beginning the year on the disabled list.
"If he's not back in a game, we're down to seven days," Collins said. "That's not a lot of time to get somebody that hasn't done anything all spring ready."
Should Murphy indeed be unavailable, Justin Turner and Jordany Valdespin are both capable of filling in for him at second. But if the Mets need Turner to play third base in place of David Wright, who is also injured, Collins said Valdespin would open the year as the everyday second baseman.
Originally an afterthought for the Opening Day roster, Valdespin now appears to be a lock -- thanks in part to his .378 spring average and four home runs. If he does not make the team as Murphy's second base sub, Valdespin will serve as a backup outfielder.
Anthony DiComo is a reporter for MLB.com. Follow him on Twitter @AnthonyDicomo. This story was not subject to the approval of Major League Baseball or its clubs.