Mets cautious as Murphy tries to regain timing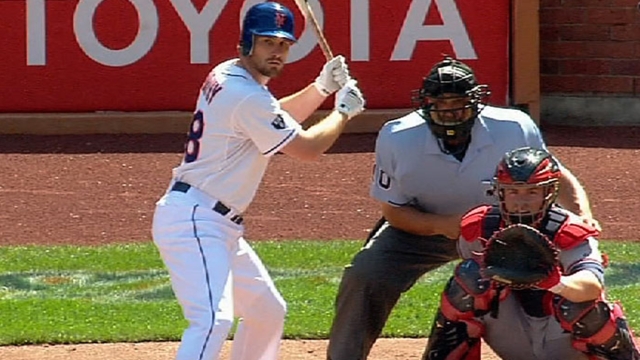 PORT ST. LUCIE, Fla. -- Like David Wright, second baseman Daniel Murphy sees no reason why his injury will prevent him from playing on Opening Day. But his team is not as certain.
Battling a strained left intercostal muscle, Murphy played in a Minor League game Sunday for the first time in nine days, working five innings at second base and finishing 1-for-2 with a single and a walk. But manager Terry Collins cautioned not to pencil Murphy onto the April 1 lineup card just yet.
"He's had absolutely no time to do what he normally does," Collins said. "That's why I'm saying we will make a decision at the end of the week which will benefit not only Dan, but the organization."
In the second of his three Minor League plate appearances, Murphy checked his swing and felt no pain, which he considered a positive. But Murphy said his timing at the plate was nowhere near where it usually is by this point of spring, likening his at-bats to "trying to hit an aspirin."
A tireless worker, Murphy has not been able to take his usual quantity of swings this spring, nor participate in his typical volume of defensive drills. So even if he is completely healthy and eager a week from now, Murphy may not be a lock to make the Opening Day roster.
"It's always a feeling," Murphy said of his timing at the plate. "Hopefully I just find it quicker this year."
Anthony DiComo is a reporter for MLB.com. Follow him on Twitter @AnthonyDicomo. This story was not subject to the approval of Major League Baseball or its clubs.