Wright plays in Minors, 'optimistic' about Opening Day
Mets captain collects one hit in five at-bats as DH, may play field Thursday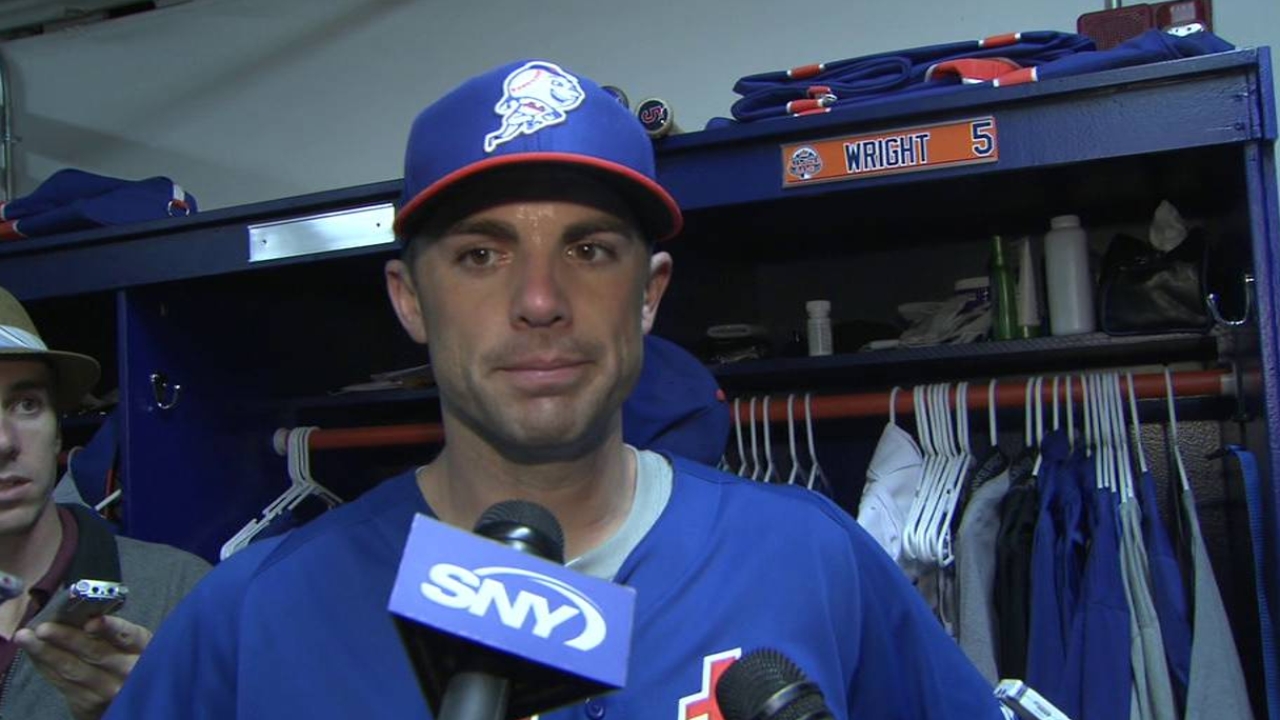 PORT ST. LUCIE, Fla. -- Third baseman David Wright took another sizeable step toward Opening Day on Tuesday, making five plate appearances as the designated hitter in a pair of simultaneous Minor League games.
"I've been optimistic about Opening Day since I came back to St. Lucie, and talked to the doctors and the trainers about the diagnosis," Wright said. "It's another step closer, so I'm still very optimistic."
Bouncing between a Triple-A and a Double-A game on Tradition Field's back diamonds, Wright finished 1-for-5 with a hit up the middle, also scoring from second on a single. It was his first game action since a March 12 appearance in the World Baseball Classic appearance, after which Mets trainers learned of his strained left intercostal muscle and shut him down.
"It was good to get that number of ABs that quickly," Wright said. "I felt as comfortable as I guess I could taking the two weeks off."
Because Mets Minor Leaguers are not scheduled to play in games on Wednesday, Wright will spend the day working on the Major League side at Tradition Field. Assuming all goes well, he will appear in another Minor League game on Thursday, perhaps playing the field for the first time.
Spring Minor League games are beneficial for Wright and other injured Mets because they have extremely flexible rules. Wright hit third in every inning on Tuesday, walking from one field to another to take at-bats in simultaneous games. In that fashion, he was able to record five plate appearances in roughly an hour.
To sharpen his fielding, Wright has been working daily with third-base coach Tim Teufel, who hits grounders to him at random speeds and angles. Due to disabled list backdating rules, the Mets will not use Wright in a Grapefruit League game until they are positive he will not begin the season on the DL.
Anthony DiComo is a reporter for MLB.com. Follow him on Twitter @AnthonyDicomo. This story was not subject to the approval of Major League Baseball or its clubs.