Murphy's ribs fine after making spring debut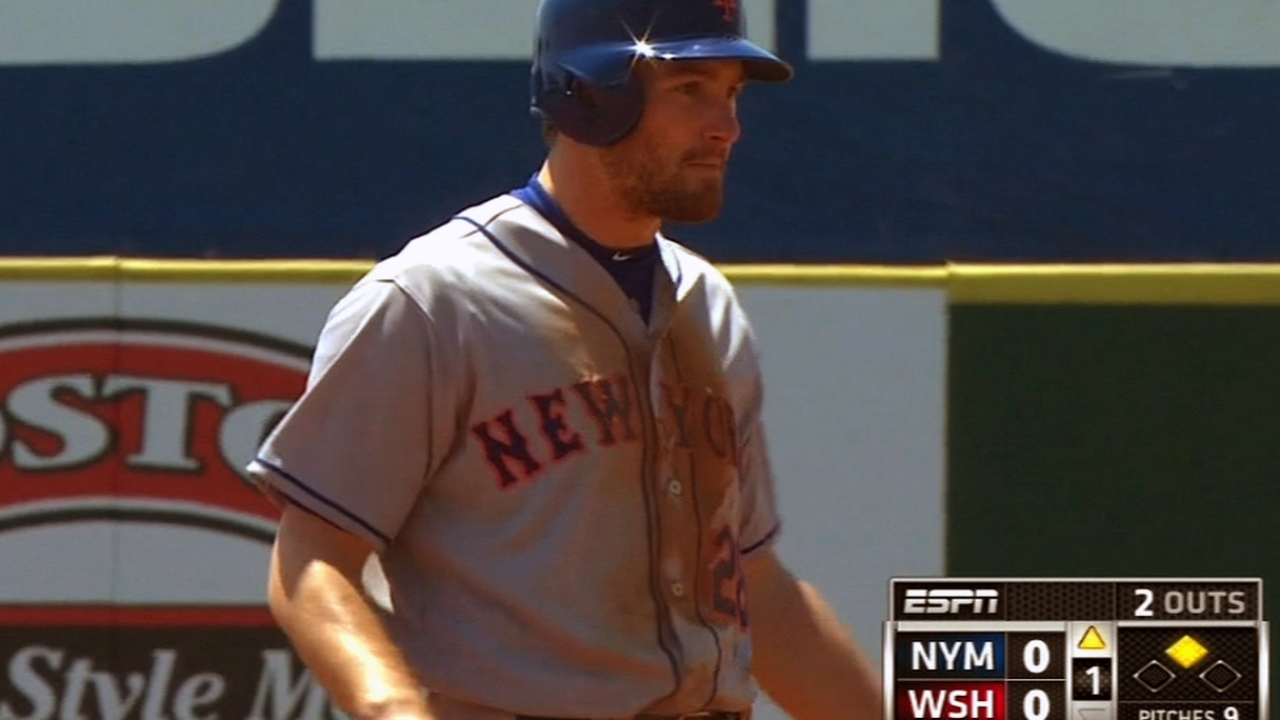 VIERA, Fla. -- If there was any doubt as to the state of Daniel Murphy's strained right intercostal muscle, the second baseman erased it on a wild play in the first inning Thursday. Moments after singling on the first big league pitch he saw all spring, Murphy tagged from first to second, belly-flopping onto the base to beat the tag.
"I bit the ground, but I felt pretty good on it," Murphy said, joking that he "tackled" the bag. "It was the right play."
Murphy finished 1-for-3 during the Mets' 5-1 loss to the Nationals in his long-awaited Grapefruit League debut, which came approximately six weeks after he strained his intercostal in the early days of camp. Though he punched a broken-bat single into right field in his first at-bat, Murphy called that hit "trash." More encouraging, Murphy said, was the line drive he smashed directly at the second baseman in his second at-bat, and the sharp foul he hit before striking out in his last.
Most heartening, of course, was the fact that Murphy felt no twinge in his side, no pain, no discomfort -- nothing.
"That was the good thing about today," Murphy said. "I didn't feel it at all and I was able to just play the game. Now I'll just use these next two days to get my legs underneath me as much as possible, and I'm looking forward to going north."
As long as Murphy remains healthy, he will appear in each of the Mets' final two Grapefruit League games, against the Cardinals and Orioles. Though facing Nationals left-hander Gio Gonzalez was a good first test for Murphy, he believes seeing as much Major League pitching as possible over the next two days will be crucial.
"He needs to [push it]," manager Terry Collins said. "He needs to a little bit, otherwise he stays here. He's got to show us that he's ready to play. He's got to show that he's not going to have a problem swinging the bat or with his mobility, because he hasn't played much. You've got to go play."
Most significant will be making sure that the ribcage discomfort, which has been a part of his life for a month and a half, does not resurface.
"I can't just show up and play without getting some work done on it just to make sure it's ready, but the training staff's done a great job," Murphy said. "I feel good. I felt good today. We'll see how I feel tomorrow."
Anthony DiComo is a reporter for MLB.com. Follow him on Twitter @AnthonyDicomo. This story was not subject to the approval of Major League Baseball or its clubs.