Harvey racks up strong strikeout numbers in spring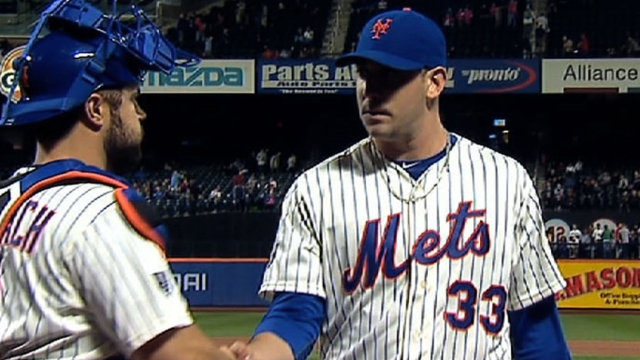 PORT ST. LUCIE, Fla. -- Matt Harvey's spring ended on a high note and, fittingly, with a handful of strikeouts.
In his final Grapefruit League tuneup Friday before his first regular-season start, the Mets right-hander tossed four scoreless innings against the Cardinals, striking out four. He ended the spring with 27 1/3 innings pitched (spanning seven outings) and 33 strikeouts, ranking amongst baseball's best for punchouts during Spring Training.
"I look at it as throwing strikes," Harvey said. "If I can get to two strikes, a strikeout is gonna be good here and there. But I induced two double plays today, and that's definitely a big part and something that's going to help last longer into the game. I'm not all about strikeouts, but obviously they're nice to have, and once you get to an 0-2 count, it's nice to put a guy away."
While strikeouts are a big part of Harvey's game -- he averaged 9.2 per nine innings in the Minors in 2012 and 10.3 in '11 -- he said he's focused on finding more efficient ways to get batters out this spring to preserve his pitch count and go deeper into games.
"It's just being more aggressive," Harvey said. "Not throwing away from bats, it's throwing to the target and throwing to the glove. Looking back on last season, the numbers were there. It's just a matter of getting deeper into the game. If I can continue to put up zeros and go seven, eight innings, then the job's getting done."
And with the recent news that the Mets are likely to be without Johan Santana this season, Harvey realizes that efficiency from all the New York starters could help fill the hole.
"We need all our starting guys to go 200-plus innings," Harvey said. "In order to do that, [you need] 30 starts of at least seven innings. Working on that during the spring is hopefully going to carry over into the season. Seven innings every time -- going out there and getting ground balls and double plays is something that's gonna help that."
Joey Nowak is a reporter for MLB.com. Follow him on Twitter at @joeynowak. This story was not subject to the approval of Major League Baseball or its clubs.