Mets hoping Gee can be stabilizing force for rotation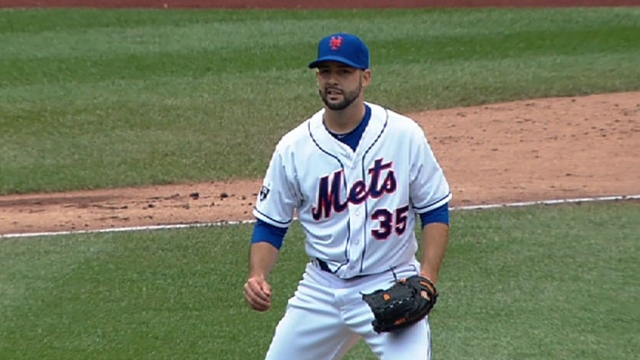 SARASOTA, Fla. -- Dillon Gee struggled throughout Spring Training, but as it comes to a close, there's much bigger things to overcome. The righty is in the process of moving forward and fully recovering from a scary injury that cut his promising 2012 season short.
In July, an examination revealed a clot in an artery in his right shoulder, and a procedure was done to break up the clot with a catheter. On July 13, he underwent surgery to replace part of the artery.
The Mets are entering the season hoping that their pitching can be a strength. Gee is an important part of that. But there doesn't seem to be much worry about his ability to be consistent and reliable once the real games begin.
"He's fine," said manager Terry Collins. "His last outing was so good, it's probably unfair to compare."
Gee was a solid part of the Mets' rotation in 2012, going 6-7 in 17 appearances with 97 strikeouts. In 109 2/3 innings of work, he proved to be a breakout sensation. His strikeout and walk rate was the best of his career.
In his final spring appearance Saturday, Gee's performance was a mixed bag of results. While he consistently threw first-pitch strikes, he struggled to keep runners off base and allowed his third home run in his last four outings. He worked quickly and efficiently out of the gate, but had trouble getting through the lineup after that.
"It's just good to see him just get out there," said Collins.
Gee took the loss Saturday, pitching four innings, allowing three runs on six hits. He gave up the home run in the top of the third, but he stayed ahead of hitters, consistently getting into pitchers' counts. He also didn't allow a walk and struck out four Orioles batters. He leaves for New York with a 5.87 ERA in eight spring appearances.
Gee's progress has become even more important with the news that Johan Santana will be lost for the season due to left shoulder surgery. With so many question marks, Gee could step up and be one of the solutions. He showed signs of life Saturday. There was life on his fastball, life on his off-speed pitches. His confidence didn't get shaken when he had the bases loaded. He worked out of that jam.
Pre-injury, Gee was proving he could give the Mets a shot of what they desperately needed.
As he makes his comeback, and the regular season begins, Collins sees a guy poised for success.
"There's probably still some stiffness," Collins said. "But I'm not worried. He's fine. He was dominant before today, and he can do it again."
Jessica Quiroli is a contributor to MLB.com. Andrew Simon is a contributor to MLB.com. This story was not subject to the approval of Major League Baseball or its clubs.