Wheeler fights butterflies in Las Vegas debut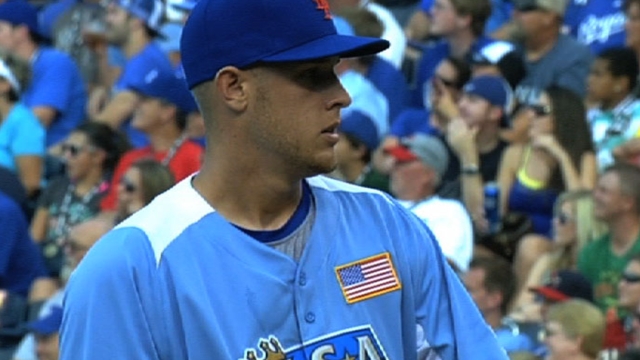 NEW YORK -- With so many clashing opinions surrounding the Mets' decision to start top pitching prospect Zack Wheeler in Triple-A Las Vegas, Wheeler could have added fuel to the debate by dominating in his Vegas debut.
Instead, Wheeler needed 86 pitches to record 10 outs Thursday, walking three batters and throwing a wild pitch. He acknowledged afterward that he was "maybe just a tad nervous."
"I was a little quick," Wheeler said. "My delivery, I was pushing the ball because I was so out in front of myself, instead of staying back and finishing through the pitch."
How Wheeler copes with the hitter-friendly conditions in Vegas will determine how quickly he can make his Mets debut. Matt Harvey, who was in Wheeler's exact position this time last year, struggled with consistency early at Triple-A and did not debut until late July.
"You've definitely got to keep your mind here," Wheeler said. "That's where you're at. You're playing here with all your buddies and you're trying to win, trying to get better every time you go out there."
The Mets' top overall prospect, Travis d'Arnaud, had a better go of it in Thursday's Las Vegas opener, finishing 2-for-3 with two doubles, two walks, four runs scored and one RBI.
Anthony DiComo is a reporter for MLB.com. Follow him on Twitter @AnthonyDicomo. This story was not subject to the approval of Major League Baseball or its clubs.