Lagares called up, notches first Major League hit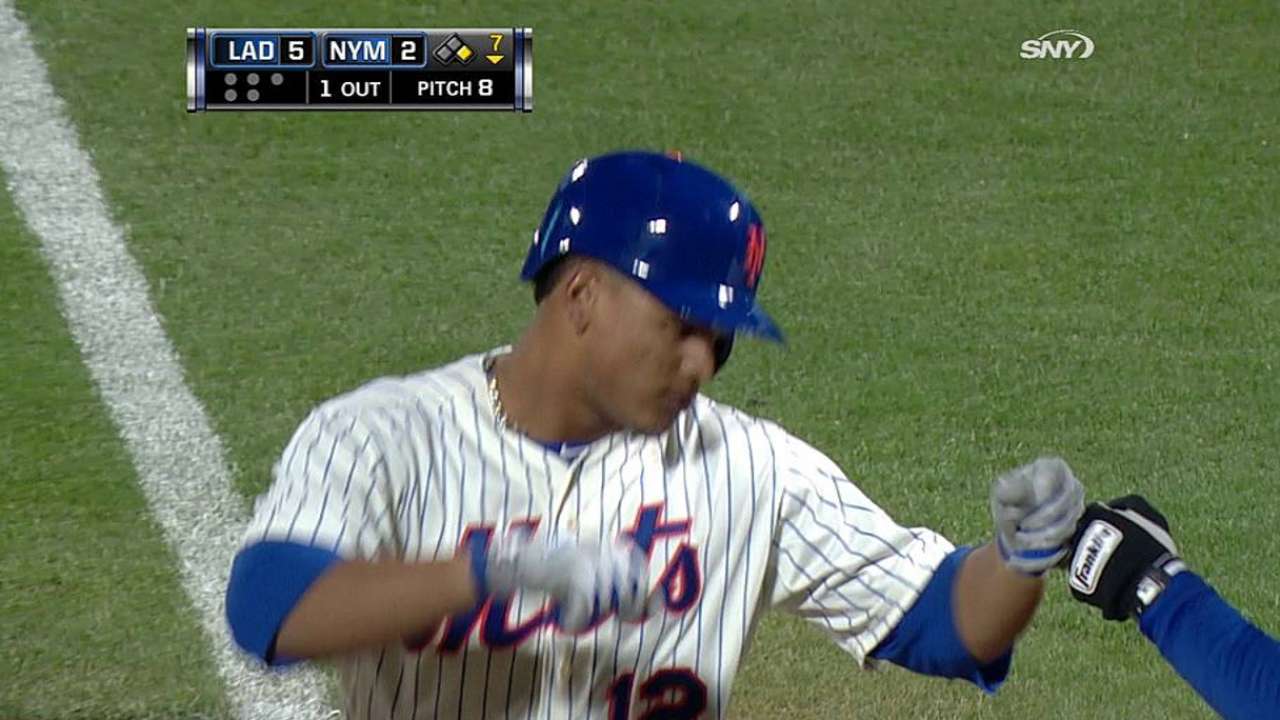 NEW YORK -- When Triple-A Las Vegas manager Wally Backman called outfielder Juan Lagares to tell him he was headed to the big leagues, Lagares figured it was a joke -- Backman being Backman.
"Wally called me last night and I thought he was just playing with me," Lagares said, laughing. "I said, 'Hey, are you serious?'"
Turns out Backman was serious. Disappointed by Kirk Nieuwenhuis' offensive production and intrigued by Lagares' hot start in the Minors, the Mets recalled the latter from Las Vegas on Tuesday and optioned the former to the Minors. Manager Terry Collins indicated that Lagares, 24, will receive regular playing time in center field.
"There are people in this organization who think he's a better center fielder than Matt den Dekker," Collins said, referring to the organization's more-hyped prospect. "That says a lot."
Lagares entered Tuesday's 7-2 loss to the Dodgers in the fifth inning as a defensive replacement in center field and went 1-for-2, collecting his first Major League hit with a sharp single to left field in the seventh.
"When I got to the dugout, all my teammates said congratulations," Lagares said. "For me, it felt good."
The 13th-ranked Mets player on MLB.com's 2012 Prospect Watch, Lagares fell off the rankings entirely last summer after posting a .723 OPS with four home runs in 130 games for Double-A Binghamton. But he hit three homers in his first 17 games this month for Vegas, ranking 21st in the Pacific Coast League with a .346 batting average.
That, combined with his defense, was enough for the Mets to make a surprise move. A former shortstop, Lagares signed with the Mets at age 16 and has spent the past eight years working his way up the organizational ladder. He switched to the outfield full-time in 2009, playing almost exclusively center field since last season.
"I feel better in center field," Lagares said, "but I can play anywhere."
In New York, Lagares should start regularly in center, possibly taking significant playing time away from fellow right-handed hitter Collin Cowgill. His promotion will free up Jordany Valdespin to play infield more often, and should result in a right-field mix of Marlon Byrd, Valdespin, Cowgill and Mike Baxter.
Nieuwenhuis had yet to find a stable role in Collins' mix-and-match outfield, earning a stray start here and there but mostly serving as a late-inning defensive sub. He was sidelined by a bone bruise in his left knee for much of Spring Training, opening the regular season with eight strikeouts in his first 16 at-bats.
"He needs to go play," Collins said. "He was hurt most of the spring. He did not get very many at-bats before he started out this year, really not ready to be in the lineup every day. We have been unable to get him the at-bats that I think he needs to get him going."
Collins delivered a similar message to Nieuwenhuis, around the same time that Lagares took a red-eye flight to meet the team.
"They all say they're OK with it," Collins said. "But I'm sure he was disappointed."
Anthony DiComo is a reporter for MLB.com. Follow him on Twitter @AnthonyDicomo. This story was not subject to the approval of Major League Baseball or its clubs.