Back in third slot, Wright OK hitting anywhere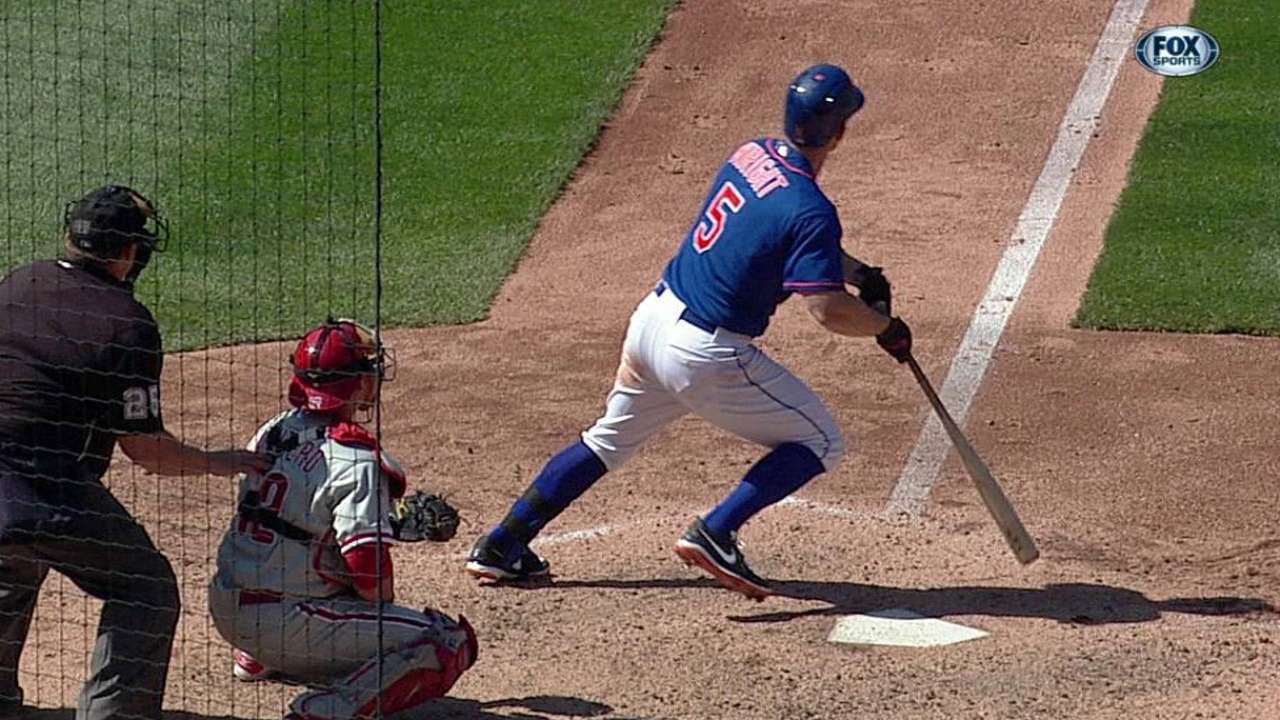 NEW YORK -- David Wright doesn't mince words, and he'll tell you exactly what he thinks about where he fits in the lineup. And in this case, he doesn't care. Wright is happy to hit third or cleanup for the Mets, but he doesn't think his spot in the batting order has any impact on how he hits.
"When I say zero, it makes about zero difference to me," he said on Sunday. "Whatever Skip thinks will make us click. After the first inning, you have no idea where you're going to be hitting. Sometimes, I think people make a bigger deal of it than it really is. When I got called up, I was hitting seventh. I've hit second, third, fourth and fifth. To me, it doesn't really make that much of a difference."
It may not have great impact for Wright, but it certainly makes a difference to the Mets. New York ranks as the third-highest scoring team in the National League, but it's hit a bit of a dead spot.
The Mets have scored four runs or fewer in five of their last six games, and the team's recent power outage forced manager Terry Collins to juggle his lineup. Wright hit cleanup on Friday and Saturday before moving back to the third slot Sunday, and Collins said that wasn't a coincidence.
"We're not scoring," said Collins on Sunday. "What did we do when we scored? We had David hitting third. So I'm going to put him back there, and we'll fill in behind him. We can't ride one horse here. This takes a whole team. There will be other guys that have got to drive some runs in."
Collins said Sunday that he met with his coaching staff to discuss why the team hasn't hit in recent games, and Wright's spot in the order was a natural topic of discussion. But more importantly, said Collins, is the fact that his players maintain the same approach no matter how they're hitting.
"We've accomplished pretty much the approach we want," he said. "We've worked the starting pitchers and got ourselves in situations. We just haven't driven in runs. We've had guys on base. We could've scored more runs. We just didn't. That's all the ups and downs of the game."
Wright had his own take on that situation, and he made sure to credit the Phillies for pitching well in the first two games of the series. The All-Star third baseman said the Mets started out hot and had to level off at some point, but he also said there's no reason they can't get back on a roll.
"I think it wasn't likely that we were going to maintain the pace that we were on. At one point, I think we were leading the league in runs," Wright said. "Coming into the year, we expected to have a good offense, but I don't know if we expected to lead the league in runs. At some point, you're going to have to even, and you're going to have some stinkers where you don't feel like you can get anything going. Some of the credit obviously goes to the pitchers that we've faced. But some of it is on us for not producing. Some days you get hits and some days you don't. It's tough to explain."
Spencer Fordin is a reporter for MLB.com. This story was not subject to the approval of Major League Baseball or its clubs.