Harvey feeling strong, dealing with long layoff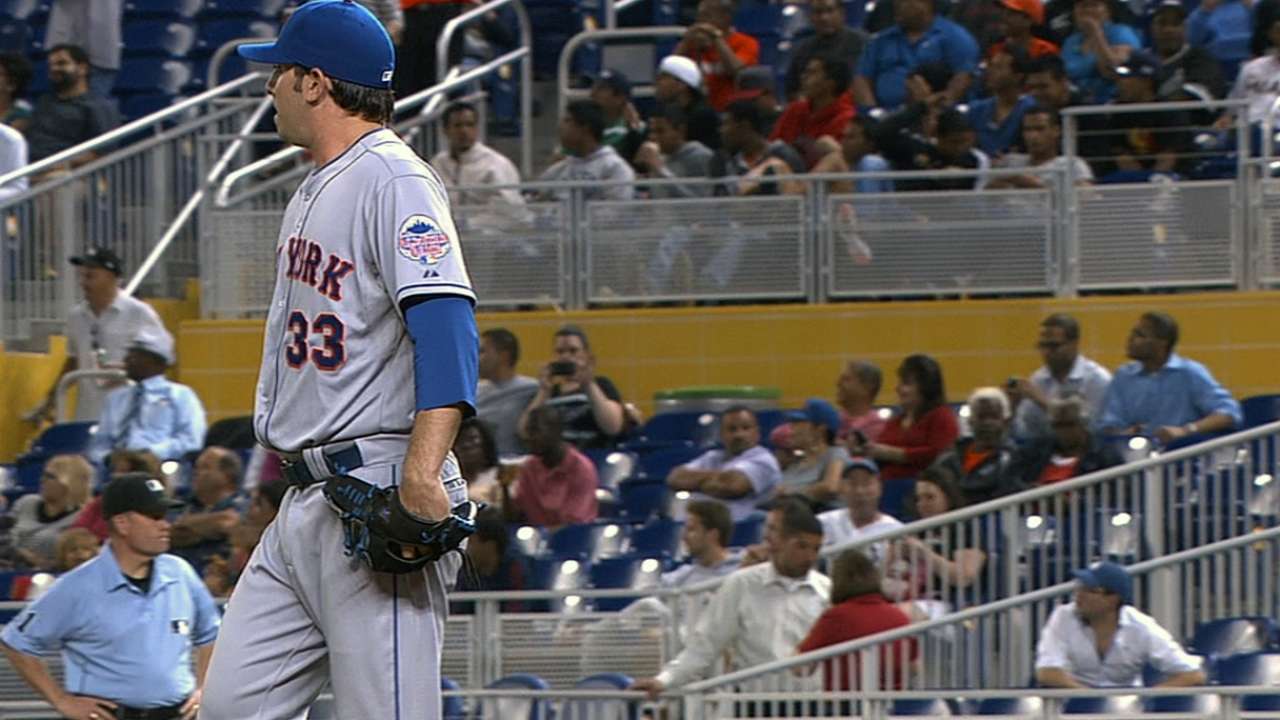 ATLANTA -- The day after throwing a career-high 121 pitches in his last outing against the Marlins, Matt Harvey felt no soreness in his right arm. Harvey, who once threw 157 pitches in a college game and routinely sat in the 120-130 range, felt characteristically strong.
"I don't get sore at all," Harvey said. "I know if I worked a little bit too hard, the next day might be different. But I was fine all week."
Harvey, in other words, did not need all the extra rest the schedule has afforded him. Due to two team off-days and Saturday's rainout, Harvey will take the mound Tuesday at Citi Field on seven full days of rest. He and manager Terry Collins both wish that wasn't the case.
"I don't like it," Collins said. "This game is about routines and repetitions. When you get these guys out of these routines and their reps, it's a problem."
Added Harvey: "You've got to deal with it. It's an adjustment, but it's definitely not the first time that I've gone seven or eight days without pitching."
In a more general sense, the Mets spent Saturday's rainout wondering which baseball gods are conspiring against them. Just as postponements in Minneapolis and Denver disturbed their momentum earlier this season, rain in Atlanta robbed them of a chance to build off the good vibes of two straight wins.
"Every time it seems like we get a little momentum, it's disrupted," Collins said. "We've just got to pick it up and get after it again today."
Harvey spent his off-day watching his beloved New York Rangers lose to the Capitals in Game 1 of a best-of-seven series Thursday in the Stanley Cup Playoffs. He planned to throw a light bullpen session Sunday, then attend Game 3 of the Rangers' series Monday night at Madison Square Garden.
Boasting that the Rangers are undefeated in the handful of games he has attended since moving to New York, Harvey fashions himself something of a good-luck charm. He is good friends with Rangers center Brian Boyle, and also befriended goalie Henrik Lundqvist this winter.
The Rangers' public relations staff messaged Harvey on Sunday asking if he wanted to take over their Twitter feed during Game 3, and Harvey almost immediately replied back to accept.
"They'll be all right," he said of the Rangers. "They'll be all right."
Anthony DiComo is a reporter for MLB.com. Follow him on Twitter @AnthonyDicomo. This story was not subject to the approval of Major League Baseball or its clubs.