Legend of Harvey grows, but ace stays focused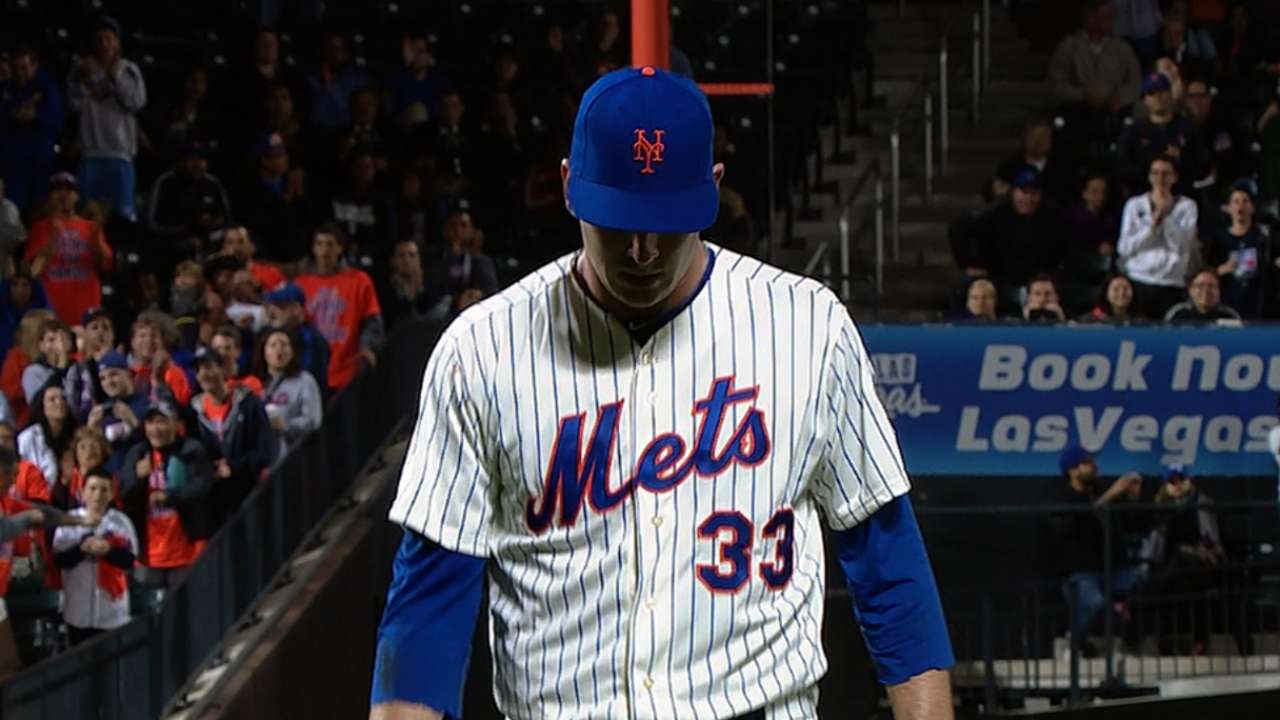 NEW YORK -- You can't be on an even keel without first learning how to balance.
Matt Harvey made headlines on Tuesday night with the best pitching performance of his young career, but he calmly and quickly dismissed the memory of that gem on Wednesday.
Harvey met the media and said that he'd enjoyed his start and the attention that it brought him, but he also said that he's trained his mind to move on to the next assignment. Win or lose, Harvey said he only allows himself 24 hours to think about what went right or wrong in any given start.
"I've been like that since high school," he said on Wednesday. "I can be mad. I can be happy. But when it's time to throw my bullpen, it's time to move on to the next start. ... I got help from one of my mentors, Bill Caudill. He told me, 'Give yourself 24 hours and then flush everything out.' Going through college, I definitely got the practice of being able to do that. Now it's pretty easy to do."
Harvey, who took a perfect game into the seventh inning and wound up with a career-high 12 strikeouts, said that he watched the ESPN package celebrating his start on Wednesday morning. And even though he got a no-decision, Harvey said his cell phone was inundated with text messages.
There were the usual suspects -- his mom and his sisters -- but also some surprises. Harvey, a diehard Rangers hockey fan, said he got a congratulatory text from goalie Henrik Lundqvist.
One reporter tried to relay a statistic to Harvey on Wednesday, but it wasn't something the youngster had studied. Harvey had accrued a 97 Game Score for his performance on Tuesday night, the highest rating for any Mets game in 20 years and one of the top 50 scores since 1916.
Still, after hearing that statistic, Harvey elected to stick to his 24-hour policy.
"I don't pay attention to that stuff. We're here to win and that's about it," he said of advanced statistics. "The numbers are nice, but when we end up winning as a team, that's what it's all about."
Harvey wasn't being flippant; he was being honest. It's just not an area of the game that brings him much interest, but the Mets were happy to talk about his accomplishments for him.
"Well, that's the best game I've seen," said Mets manager Terry Collins of Harvey's nine-inning, one-hit gem. "Probably [Johan Santana's] no-hitter last year was maybe one of the most exciting, but certainly as far as just a purely pitched game, that was probably the best one I've ever had."
Specifically, what did Collins find so impressive? Mostly, Collins liked that Harvey was able to keep his poise in a tie game, and he loved how he carried his stuff on seven days' rest. Harvey's routine was interrupted for Tuesday's start, but the youngster didn't allow that to affect him.
"I was very amazed by it," Collins said of Harvey's outing. "I thought he would have the tendency to overthrow a little bit because he was so rested and so strong. But he really didn't. He stayed within himself. As he's done so far, when he needed a real good fastball, he reached back and got it. He was 94-95 [mph], but when he needed that 96-97 [mph], he went and got it. Because it was still there."
Spencer Fordin is a reporter for MLB.com. This story was not subject to the approval of Major League Baseball or its clubs.