Valdespin's 'flair' brings retaliation from Bucs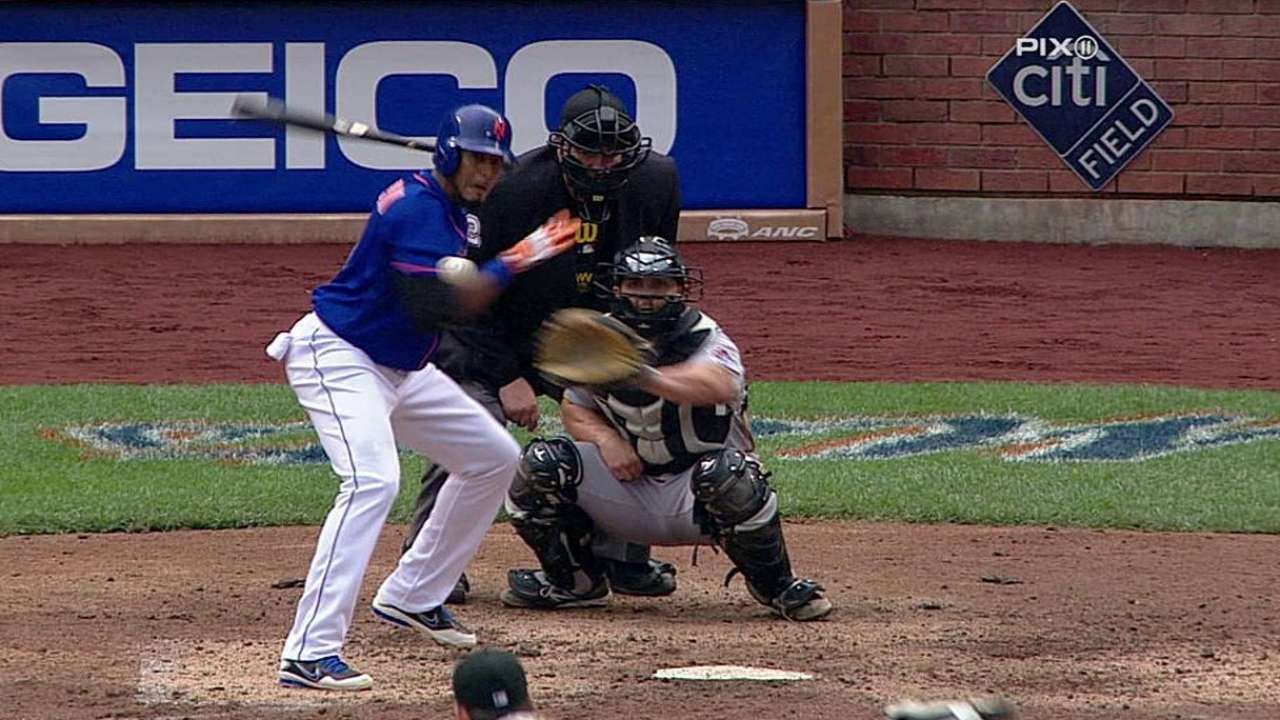 NEW YORK -- The retaliation came swiftly Saturday afternoon, in the seventh inning of another blowout. A day after Jordany Valdespin flipped his bat and stared a little too long at his solo home run in a five-run game, the Pirates took offense.
Understanding the chance of retaliation, Mets manager Terry Collins inserted Valdespin into the game as a pinch-hitter. The rest of the plot took little time to unfold -- Pirates reliever Bryan Morris threw one pitch in the dirt, before drilling Valdespin in the right forearm with a 94-mph offering.
Lesson learned, as far as Collins is concerned.
"He plays with a little excitement and a little flair, and once in a while somebody's going to be a little disturbed by it," Collins said. "If nothing else, he grew by it. And that's the most beneficial thing that could have happened."
Yet at least initially, Valdespin seemed angry. He walked slowly to first base after the plunking, slamming down his helmet upon returning to the dugout. None of Valdespin's teammates acknowledged him at first, while Morris received high fives and back slaps in the opposite dugout.
Mets captain David Wright guessed that Valdespin's anger stemmed from the simple fact that the plunking likely hurt. Though Valdespin declined to comment after the game, ignoring reporters on his way out of the ballpark, both Wright and Collins said he understood the retribution.
"He doesn't need to change the person that he is," Wright said. "I think that toning some of it down might be appropriate, but he gets excited. And his way of showing that he's excited might be different than mine and a lot of other people's. I think sometimes there's criticism that's fair, and a lot of times also there's a lot of criticism that's unfair because he has a history of doing some things."
That history includes irking coaches and teammates with various antics throughout his Minor League career, as well as several well-publicized episodes in the Majors last summer. The Mets have talked to Valdespin about those issues countless times, but Saturday marked the first time an opposing team clearly sought retribution.
"That is baseball," first baseman Ike Davis said. "Some people take offense to it and some people don't."
Valdespin, for his part, offered no remorse after showboating Friday's home run, saying that "every time I hit the ball for a homer, you have to enjoy it."
"Like I said in Spring Training, I'm here to enjoy and play the game the right way," Valdespin said. "That's what I can do every day. Every hit I enjoy, my family enjoys, my friends enjoy."
Following Saturday's retribution, he may not be enjoying it quite so much.
"You know what you're getting in Jordany, and that's a very talented player who has obviously a knack for getting those big hits," Wright said. "He sometimes shows that charisma and flair, and that upsets some people. Whether you think it was right or wrong, it is what it is. I'm sure Jordany understands that also."
Anthony DiComo is a reporter for MLB.com. Follow him on Twitter @AnthonyDicomo. This story was not subject to the approval of Major League Baseball or its clubs.