Collins hopes series in Chicago can turn Ike around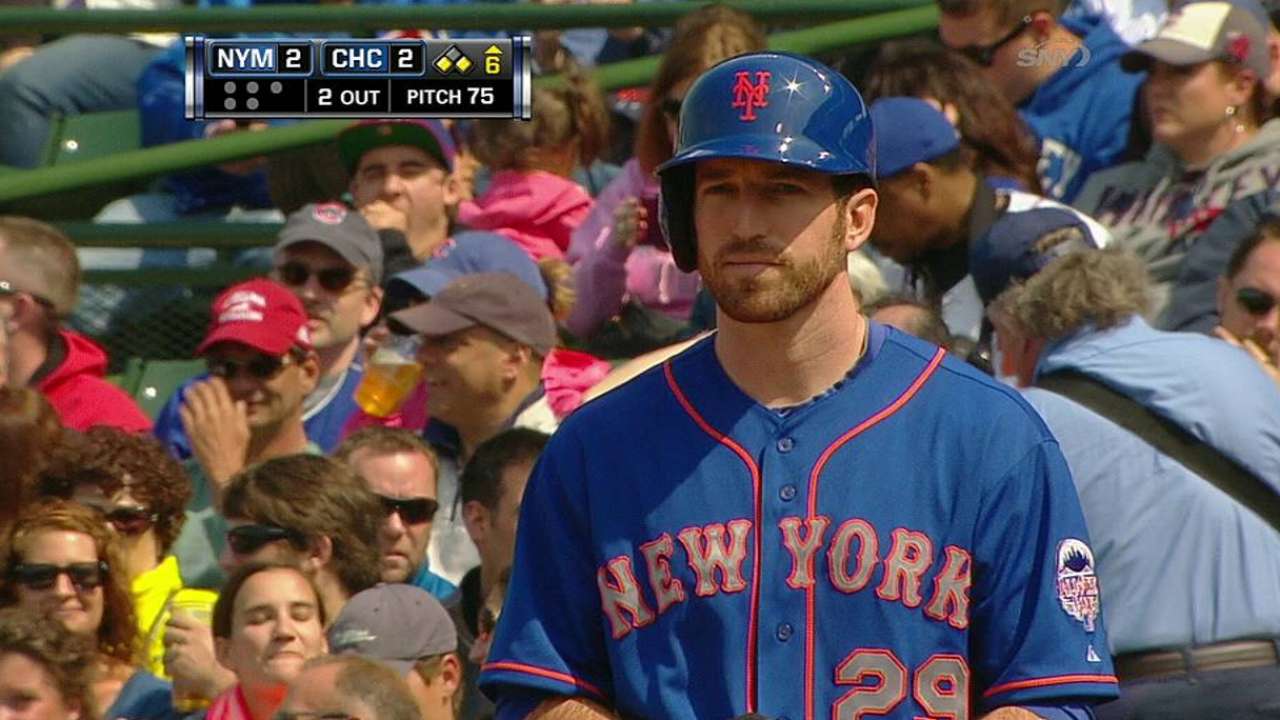 CHICAGO -- Manager Terry Collins tried one form of motivation with Ike Davis. If that doesn't take, he may have to resort to a more unpleasant form after the weekend.
Davis, the Mets' primary cleanup hitter, has hit just .160 this year, with a slugging percentage of .267. He has two doubles through 38 games and nine RBIs, breaking an 0-for-24 slump with a sixth-inning single in Friday's 3-2 win over the Cubs.
Collins hopes Davis can use the weekend series at Wrigley Field as a jumping-off point.
"We talk as a group in here all the time about confidence, and Ike is struggling," Collins said before the series opener. "There's no question about it. He's struggling, he knows it, and he's frustrated. He went and hit in the cage last night before he took a shower and got on a bus and came to Chicago because he's still trying to find it."
Collins has hoped that with Lucas Duda -- batting .212 with eight homers and 14 RBIs -- hitting behind him, Davis might get some better pitches to hit, particularly against right-handers. With the Mets facing two right-handed starters in Chicago, Collins said, "This weekend will be certainly a big series for him."
Collins said there's a chance, if Davis doesn't make any progress this weekend, that he could flip Duda and Davis in the fourth and fifth spots in the order.
Davis has received a vote of confidence from Collins, similar to the one he got last year, when the Mets pledged not to send him to the Minors after a slow April and May. He went on to drive in 24 runs in June, and he finished the year with 32 homers and 90 RBIs.
Said Collins: "My recollection was the day we talked to him and said, 'Hey, look, we're not going to send you down. We're going to keep you here, and we believe in you. We've got confidence in you.' But we were going to start platooning him. I think that might have taken all the pressure off him. There was so much talk he was going to get sent out that maybe he just relaxed and started swinging the bat a little bit better."
The "bad cop" routine and perhaps a threat of demotion might give Davis the spark he needs this year, but Collins isn't sure if he's ready to go down that road.
"I haven't used that approach yet," he said. "I did use the approach the other day and said, 'Look, we really believe in you, and you've got to start believing in yourself and got to go back and hit where you're supposed to hit.' I have not tried the other side yet, because he's got enough on his plate at the moment."
Joey Nowak is a reporter for MLB.com. Follow him on Twitter at @joeynowak. This story was not subject to the approval of Major League Baseball or its clubs.