Workhorse Rice mindful of getting enough rest
On pace for Mets record in appearances, reliever honest about arm status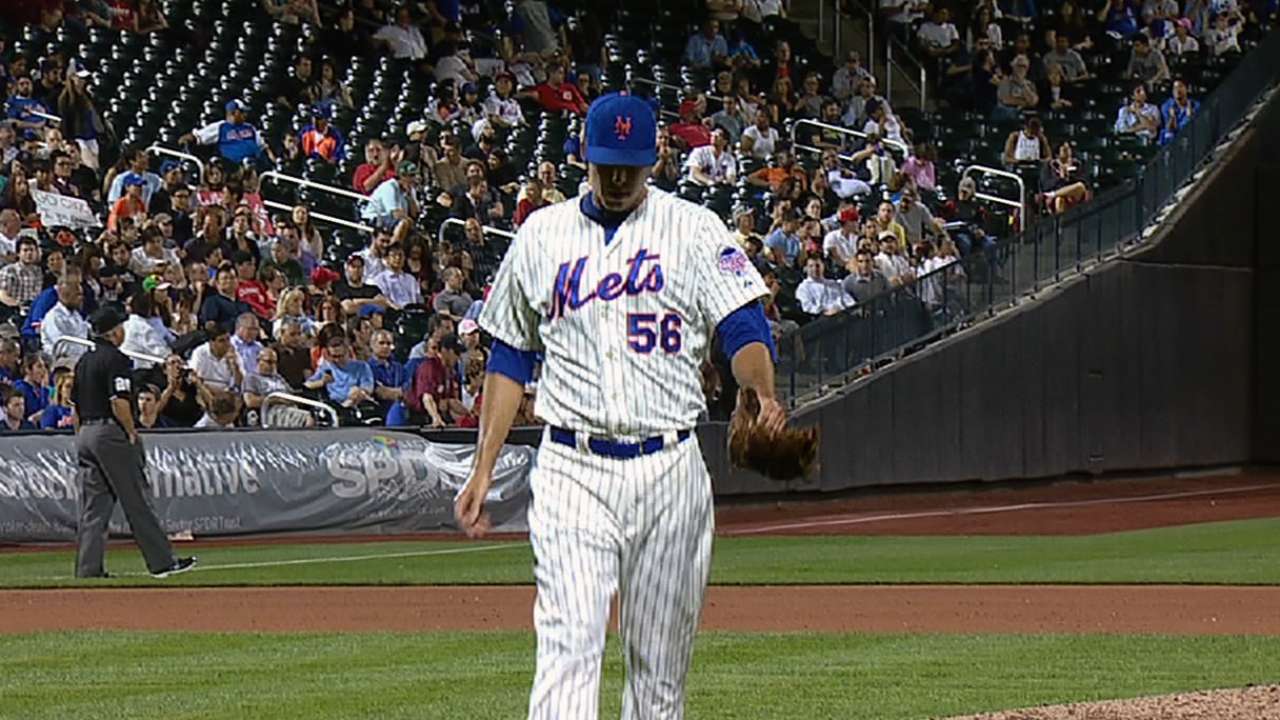 NEW YORK -- Just because Mets manager Terry Collins has used Scott Rice out of the bullpen seemingly without discretion, it does not mean he is deaf to the limitations of muscles and tendons. Collins approached Rice earlier this season with a message: "Heroes die fast here."
"If you want to go out there, and you think you're hurt and you're going to try to get through it because you're going to be a tough guy, your career in the big leagues is going to be cut short," Collins said. "So be honest with us."
The situation is tricky with Rice, who toiled in professional baseball for 14 years before receiving his first shot at the Majors. Desperate to stay in the big leagues, Rice may be more susceptible to taking the ball at less than 100 percent than a pitcher with better job security.
But he also understands that he cannot pitch every day -- despite entering Wednesday's game against the Reds on pace for a franchise-record 98 appearances.
"Coming up through the Minor Leagues, it's the same deal," Rice said. "It's a fine line between being smart and preparing yourself. My whole thing with it is, if I can get myself ready to throw and help the team win a game, I'm going to do that every day."
Rice, whose current run of four straight scoreless appearances has lowered his ERA to 2.91, said he is usually most sore two days after an outing. He believes his arm responds best to throwing every day, which prevents him from experiencing that soreness.
Thankfully, Rice said, he has not endured any notable arm trouble this season.
"I think that's why I've been successful as a reliever more so than as a starter," Rice said. "I've always had that ability to recover quickly."
Anthony DiComo is a reporter for MLB.com. Follow him on Twitter @AnthonyDicomo. Chris Iseman is an associate reporter for MLB.com. This story was not subject to the approval of Major League Baseball or its clubs.