Ankiel making an impact early in Mets tenure
Veteran converted outfielder has contributed strong arm, potent bat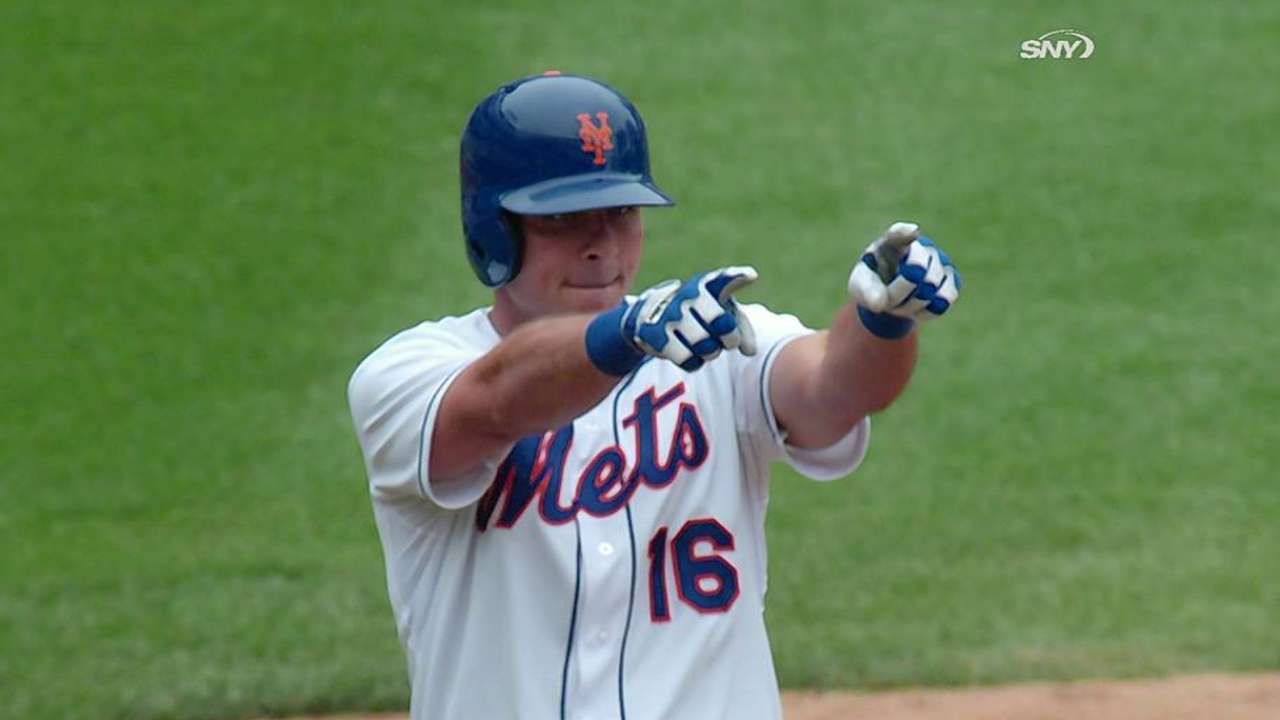 NEW YORK -- This was a new beginning for Rick Ankiel. A chance to start over with a new team after getting off to a rough start to the season with the Houston Astros. In nine games with the Mets, Ankiel has brought some offensive stability to a lineup struggling to string hits together and put runs on the board.
"It's a new opportunity, and it's exciting," Ankiel said. "You're getting a chance to play on the New York stage. We're not playing as well as we want to, but you're still playing one of the country's biggest stages, so it's exciting."
In Wednesday's 7-4 loss to the Reds, Ankiel went 3-for-4 with two doubles, a triple and two RBIs. Since joining the Mets on May 13, four days after being waived by the Astros, Ankiel is hitting .323 with two home runs and six RBIs. What began as a signing based on hope has become beneficial for both sides.
While Ankiel's gotten a new start, New York has gotten a consistent hitter at several spots in the lineup. Ankiel has batted seventh five times, fifth once and second twice, including on Wednesday.
Mets manager Terry Collins said Ankiel's been important for the team, especially in games like Wednesday's. His game-tying triple in the seventh inning kept the Mets in position to potentially win the game.
"When you're a veteran guy and you've gotten off to a slow start to the season, here's a chance to regroup, and he has," Collins said. "So far, he's been a plus at the plate. We're not in the game without him today."
Ankiel hit just .194 in 25 games with Houston. But with his seven home runs this season, he adds some power to New York's lineup.
Mets third baseman David Wright said Ankiel -- famously a former pitcher -- has provided the team with a strong arm in center, but his production at the plate is where Ankiel has provided the most value.
"I guess it's easy to overlook individual performances when the team's struggling as bad as it is. He's definitely been a shot in the arm for us," Wright said. "And then offensively, he's been nothing short of fantastic. He has this, I guess, you hear about how he's a free swinger, but he's had great at-bats for us.
"All in all, he's been fantastic."
Anthony DiComo is a reporter for MLB.com. Follow him on Twitter @AnthonyDicomo. Chris Iseman is an associate reporter for MLB.com. This story was not subject to the approval of Major League Baseball or its clubs.