Teammates voice support for slumping Ike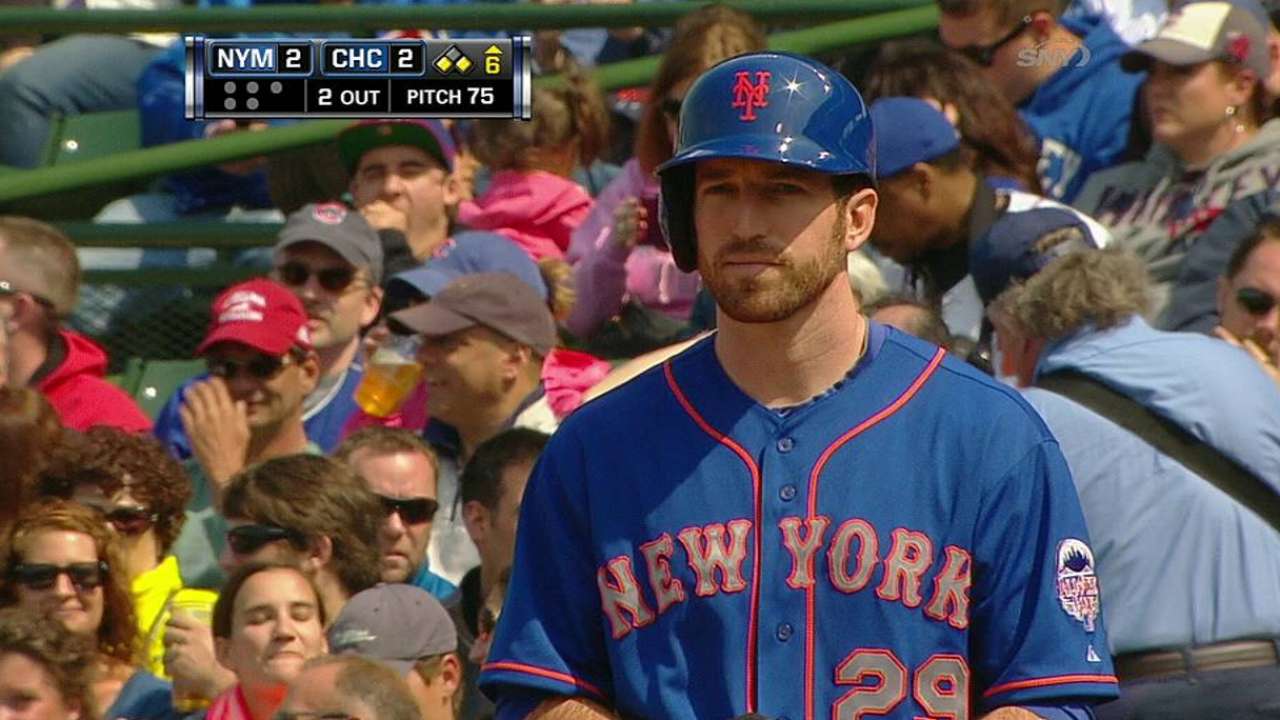 NEW YORK -- Ike Davis may be losing the battle of batting average, but he's winning the war in the clubhouse. Davis, struggling with a .148 average entering Sunday, has heard daily questions about whether he'll soon be demoted to Triple-A Las Vegas, and his teammates weighed in on the subject.
David Wright, captain of the Mets, spent a few minutes fielding questions about Davis, and he spoke earnestly of the first baseman's value as a clubhouse presence. Wright, in essence, said that Davis has caught some bad breaks and too much outside scrutiny for his slow start.
"You feel for a guy because you do understand how hard this game is," said Wright. "Ike's certainly going through that, but throughout the process -- as I've mentioned a million times before -- he's been a great teammate and continues to do what he can to help this team win.
"He's gone through the struggles, but he's been stand-up about it and taken a lot of the blame on -- and probably unfairly. We've had quite a few of us struggle these first couple months."
Davis went through similar struggles last season but ultimately hit his way out of the slump, and the Mets have patiently waited for him to right himself this year. The hard part, said Wright, is being constructive and not trying to overburden Davis with too many ways to fix himself.
"Sometimes, you've got 25 different hitting coaches and all sorts of different suggestions," said Wright, a six-time All-Star. "The biggest thing is he knows this clubhouse supports him. This team and these guys in here support him. We have his back. Hopefully, the next thing we're talking about is how hot he's getting and how he's going to carry this offense like he did the second half of last year."
The Mets have all seen the press clippings regarding their teammate, and they know that ultimately a demotion might be needed for Davis to find himself. But until it happens, they want Davis to know that they support him and that they would like nothing better than for him to start hitting again.
"He's a pro," said Daniel Murphy, who dresses two lockers down from Davis. "Ike is always so willing to ask for help. As you can see, he's at his locker every day. That's a pro right there. That's a man that comes to work every day. I think he's a lot closer to where he wants to be. He looked good yesterday, and there's not a guy on this Earth that I'd rather go to battle with than Ike Davis."
Mets general manager Sandy Alderson said that Davis has garnered more attention for his adverse start because the team isn't playing well collectively. Things would look a little better if the Mets were winning, he said, but the bottom line is getting Davis back to being a productive player.
"Whatever we do, it would be with a view toward getting him back here and back to his level of performance as soon as we can," Alderson said. "Whether that's here over the next few games or somewhere else if it comes to that, the goal here is to get Ike back to the player we know he can be."
Spencer Fordin is a reporter for MLB.com. Chris Iseman is an associate reporter for MLB.com. This story was not subject to the approval of Major League Baseball or its clubs.