Mets frustrated, but determined to turn it around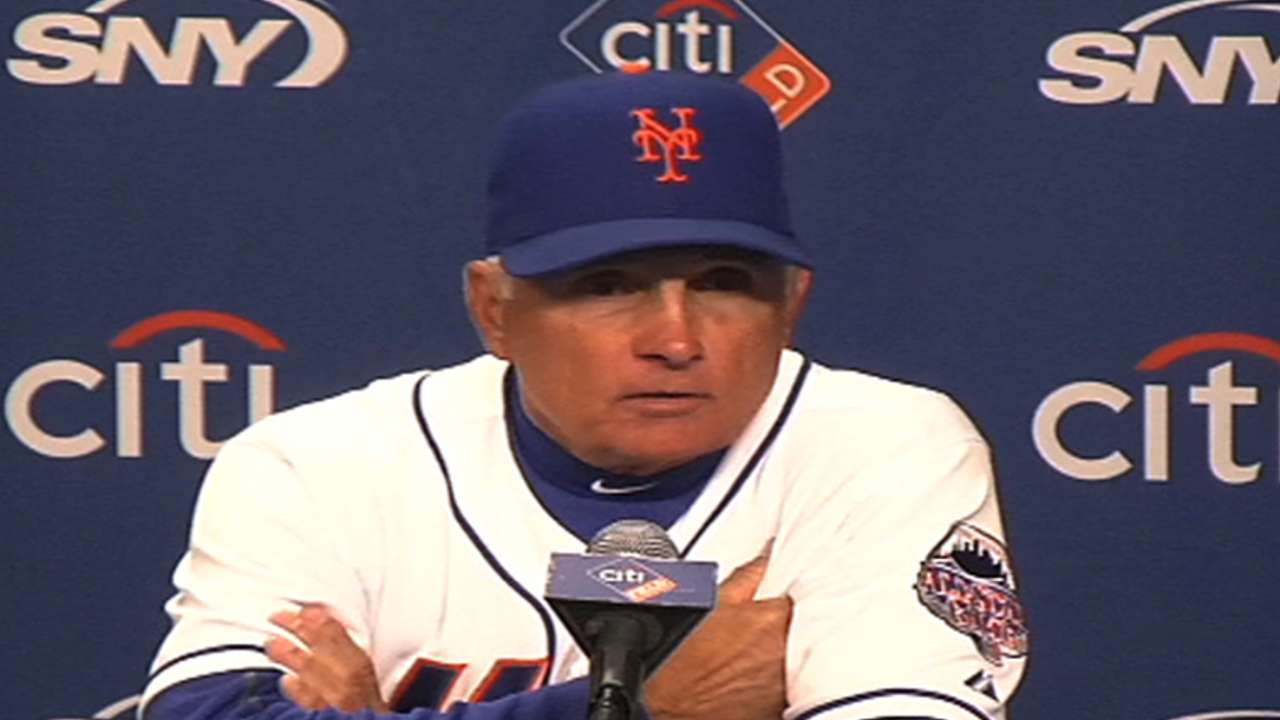 NEW YORK -- The Mets have reached their boiling point and cooled back down again. Everybody involved with the team is frustrated by the season so far, but the Mets have reached the collective understanding that getting angry and yelling at each other isn't going to fix anything.
Now, if anything, the Mets are only more determined to work together and dig themselves out of their early-season hole. Manager Terry Collins said Sunday that his players have weathered their early struggles with dignity, and he said he hasn't really seen the clubhouse turn negative.
"I've had some sportswriters ask me, 'When are you going to start yelling?' Well, who am I going to yell at?" asked Collins. "Who's not giving me any effort? I see it every day. We just got done having early batting practice. There were six guys out there. That's not the issue. The issue is we're just not executing on the field. That's certainly something you shouldn't be screaming about."
David Wright, the team's captain and most even-keeled performer, said Sunday that the Mets haven't been playing with confidence because they haven't been playing well. But he said that baseball is circular, and that confidence can come from the team winning a few games in a row.
"Everybody -- whether you're a fan, a player, owner, front office or coach -- is probably frustrated with the way we're playing right now," he said. "That's an understatement. The only way to change that is to keep plugging and change the results. You don't get out of the kind of frustration we're at right now by doing anything but winning. I think that's the way to solve that problem -- to start playing better baseball and to execute. It's a lot more fun coming to the ballpark when you win. That's for sure."
The Mets stand 12 games out of first place in the National League East heading into Sunday's action, and only six teams in baseball have a larger deficit. New York has gone 7-14 so far in May, and its 9-17 record at Citi Field ranks among the worst home records in baseball.
The early-season picture isn't flattering, but the Mets are trying not to let it get the best of them.
"We're in a funky stretch right now, but you're never quite as good as you think you are and you're never quite as bad," said second baseman Daniel Murphy. "I think we just got to the quarter-pole a couple games ago. There's a lot of baseball left. We'll keep coming out, keep working hard and hopefully we can get a little more consistent, starting with myself first."
General manager Sandy Alderson met with the media Sunday and expressed admiration for the way the Yankees have held together despite a bizarre spate of injuries. The Mets need to find their own resiliency, he said, and their character will be tested as they try to turn their season around.
"I'm sure there's frustration in the clubhouse," he said. "We're all frustrated, but we have to deal with the reality of where we are. And that requires us to move forward and come up with the answers."
Spencer Fordin is a reporter for MLB.com. Chris Iseman is an associate reporter for MLB.com. This story was not subject to the approval of Major League Baseball or its clubs.