First-round pick Smith takes BP at Citi Field
First-round pick Smith takes BP at Citi Field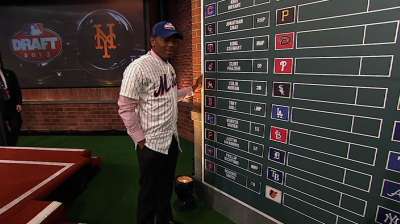 NEW YORK -- The Mets saw a glimpse of their newest star prospect on Sunday, as first-round Draft pick Dominic Smith was at Citi Field to meet some of the players and take batting practice on the field.
"It's kind of surreal," the 17-year-old Smith said. "I'm just happy to be here, I'm glad to come to New York, my new home."
The 6-foot, 185-pound left-handed-hitting first baseman from Junipero Serra High School in California wore a blue Mets uniform top and white uniform pants. He chatted with some of the Mets in the clubhouse, and then took the field to hit.
General manager Sandy Alderson stood in front of the Mets dugout and watched Smith take batting practice.
Smith said he attended Saturday's 2-1 loss to the Marlins, and stayed for all 20 innings. He also spent the last few days sightseeing around New York City.
"I've enjoyed myself here," Smith said. "I've had a blast so far."
This isn't the first time he's hit in a Major League ballpark. He played in the L.A. City Championship at Dodger Stadium a couple weeks ago, but Smith said of Citi Field, "It's better here."
Smith also took notice of the size of the ballpark. But with a sweet swing that's been getting plenty of attention, Smith might find himself hitting here on a regular basis within the next few years.
"Yeah, it's a big park," Smith said. "I've just got to keep working everyday to get better. I'm just very excited to be here."
Chris Iseman and David Wilson are associate reporters for MLB.com. This story was not subject to the approval of Major League Baseball or its clubs.