Wheeler slated to pitch second game of twin bill
Wheeler slated to pitch second game of twin bill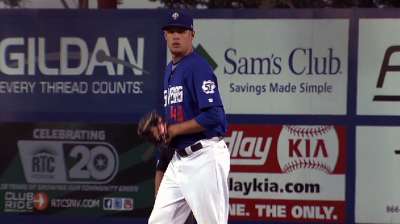 NEW YORK -- Citing a desire to "put him where he's most comfortable," Mets manager Terry Collins has officially decided to start top pitching prospect Zack Wheeler in Game 2 of Tuesday's doubleheader against the Braves, rather than Game 1. Admitting that Wheeler is going to face significant pressure regardless of when he pitches, Collins said he simply wanted to keep Wheeler on his regular night-game routine.
Thanks everybody for the support along this road to the show. It's an honor to be called up by the @Mets Big thanks to my family and friends

- Zack wheeler (@Wheelerpro45) June 15, 2013
"You're not going to take the pressure away from this guy," Collins said. "You can pitch him in a boneyard, you're not going to take the pressure off this guy. Everybody in this room is going to be there. People are going to be there. It doesn't matter if it's at noon or if it's at 1 or if it's at 7. It's a big league game, his first Major League start. There's going to be a lot of heat on him.
"We thought it would be better for him, more comfortable for him, to continue on what he's used to doing, and that's pitching the night game -- give him a chance to get to the ballpark at his regular time, go through his regular routine, without having to get there in the morning at 9 o'clock and not maybe having enough time to get himself prepared."
Matt Harvey will pitch Tuesday's matinee in Atlanta, followed by Wheeler in the nightcap. From there, the Mets will proceed briefly with a six-man rotation, meaning Harvey will go June 23 in Philadelphia on regular rest, and Wheeler will make his second start June 25 in Chicago against the White Sox.
Despite the recent successes of back-end starters Jeremy Hefner and Dillon Gee, Collins said he is committed to reverting to a five-man rotation within a week or two. That means almost certainly bumping one of those two to the bullpen.
Anthony DiComo is a reporter for MLB.com. Follow him on Twitter @AnthonyDicomo. David Wilson is an associate reporter for MLB.com. This story was not subject to the approval of Major League Baseball or its clubs.