Collins wants to give Valdespin a chance to succeed
Collins wants to give Valdespin a chance to succeed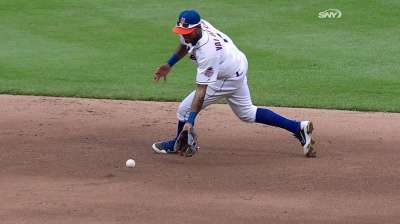 NEW YORK -- Jordany Valdespin's run of playing time is not quite going as planned for the Mets. Since taking over as the team's everyday second baseman in the wake of Ike Davis' demotion to the Minors, Valdespin has gone 2-for-15 with no walks, three strikeouts and no extra-base hits, entering play on Saturday.
He does have some rope at the position, but that will not last all summer long. If Valdespin continues to struggle, manager Terry Collins said the Mets will consider moving him back to the bench and inserting either Lucas Duda or Justin Turner at first base.
"That's a legitimate question," Collins said about Valdespin's future. "We're going to grade him out. I want to see how he does, where he can accumulate enough at-bats where we can make a proper decision on whether or not he's going to be an everyday player. It's tough when you haven't played much, and then all of the sudden you're slammed in there for three or four games. I think the sample needs to be a little more than that."
Collins' ideal situation is for Valdespin to succeed at second until Davis returns from the Minors, at which point Daniel Murphy can slide back to the keystone and Valdespin can return to the bench. But if Davis struggles at Triple-A Las Vegas and Valdespin also scuffles in the infield, the Mets may start thinking longer term. That could mean moving Duda from left field back to his natural position at first -- a move the Mets have been hesitant to make on a temporary basis.
Right now, it all hinges upon Valdespin's success.
"What I look for is whether or not he's adjusting," Collins said. "Is he making adjustments at the plate? At this level, that's what it's all about."
Anthony DiComo is a reporter for MLB.com. Follow him on Twitter @AnthonyDicomo. David Wilson is an associate reporter for MLB.com. This story was not subject to the approval of Major League Baseball or its clubs.