Atchison likely headed back to DL with groin injury
Atchison likely headed back to DL with groin injury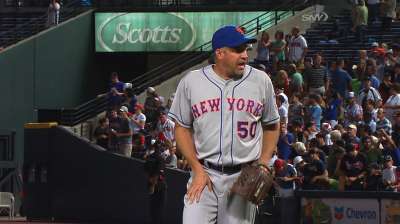 ATLANTA -- Fresh off the disabled list, Scott Atchison was prepared to help the Mets immediately. He jogged out of the bullpen during the second game of Tuesday's doubleheader at Turner Field, climbed atop the mound, threw three warmup pitches ... then walked off limping.
The official diagnosis was a sore right groin, which Atchison first experienced as he delivered his warmups. Considering the Mets' plan to recall Andrew Brown from Triple-A Las Vegas prior to Wednesday's game, a return trip to the DL is a near-certainty for Atchison.
"I don't even know if I can put it into words," Atchison said of his disappointment, after spending more than a full month on the DL with right elbow tendinitis. "I felt good. I haven't had any problems. My arm felt great. And then to have that, it's just disheartening."
For the better part of a calendar year, Atchison has been dealing with a partially torn ulnar collateral ligament in his elbow, avoiding surgery as he pitched through it. He hit the DL last month after a bone spur in the joint caused the bout of tendinitis.
Atchison understands that without surgery, his right elbow will never be fully healthy. But he also knows that with proper management, he can pitch in the big leagues at less than 100 percent -- at least assuming the rest of him is healthy.
"He told me that basically he's got to be more upfront with how he's feeling," manager Terry Collins said before Tuesday's doubleheader. "I said, 'If you feel a little something, take a day off and it will be fine.'"
Neither Collins nor Atchison envisioned a non-arm injury derailing those plans.
Regardless, with Atchison almost certainly back on the DL, the Mets can re-balance their roster -- they had been playing with a short bench -- by recalling Brown. That will give them a five-man bench and a seven-man bullpen.
That balance is also made possible thanks to Tuesday's doubleheader. Because teams are allowed to use 26-man rosters for previously-scheduled doubleheaders, Zack Wheeler made his debut in Game 2 as that extra man. The Mets then optioned him back to Las Vegas after the game, with plans for him to meet the Triple-A team in Tucson, Ariz. There, he will throw a bullpen session under the watchful eyes of Triple-A pitching coach Randy St. Claire, before meeting the Mets back in Chicago for his next start on Tuesday against the White Sox.
At that time, the Mets will likely cut a reliever from their roster and bump one of their other starting pitchers -- Jeremy Hefner, Dillon Gee or Shaun Marcum -- to the bullpen.
Anthony DiComo is a reporter for MLB.com. Follow him on Twitter @AnthonyDicomo. This story was not subject to the approval of Major League Baseball or its clubs.