Mets place Turner on 15-day DL
Mets place Turner on 15-day DL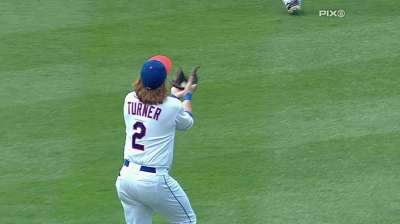 ATLANTA -- What an unlucky coincidence for Justin Turner that the scuffling infielder's injury comes now, with the Mets scheduled to face four left-handed starting pitchers in their next six games. In the midst of an 8-for-50 slump that has lowered his average more than 110 points, Turner would have had a chance to start most days in the infield.
Instead, he will rest this week in Atlanta before flying to Port St. Lucie, Fla., on Friday to begin his rehab. The Mets officially placed Turner on the disabled list Tuesday with a strained left intercostal muscle, sidelining him for at least 15 days. Receiving an ultrasound-guided cortisone shot Monday in New York, he is currently waiting for its effects to kick in.
"Those intercostals, I think it will only be 15 days," manager Terry Collins said, referencing what has become a common injury at the highest levels of baseball. "He did get an injection, but you just never know. It's the injury of the 2000s. Nobody knows how long they're going to take."
Turner said he felt a pull in his side during batting practice a few days ago and has not seen any improvement since then. The Mets did not replace him on the roster with another infielder, instead activating reliever Scott Atchison from the 15-day disabled list. Collins' hope is that the Mets will be able to use a short-handed bench through next week's series against the White Sox in Chicago, at which point they will cut a reliever in favor of a middle infielder.
But such plans depends upon the health and performance of the Mets' other infielders. Turner had proven to be a valuable piece for the Mets because of his versatility, starting games at all four infield positions and even once in left field.
"We probably need to take a look at it here in the next couple days," Collins said of his roster. "We'll get a very good idea with the doubleheader today how it fits, and then we'll make a decision here in the next couple of days if we need another position player."
Anthony DiComo is a reporter for MLB.com. Follow him on Twitter @AnthonyDicomo. This story was not subject to the approval of Major League Baseball or its clubs.