Reversed call has Collins favoring more replay
Reversed call has Collins favoring more replay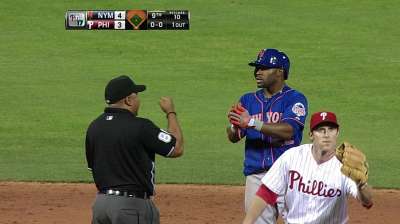 PHILADELPHIA -- All second-base umpire Adrian Johnson was trying to do Friday night in the ninth inning, when he reversed himself after originally ruling Eric Young Jr. safe at second, was get the call correct.
When Johnson changed his mind, Jimmy Rollins' relay to first off Daniel Murphy's grounder created a double play, brining the Mets manager out of the dugout.
"He just said he called it too soon and wanted to get the play right," said Collins. "[But] if you are going to change calls, how about a 3-2 pitch with the bases loaded, when the umpire [gets fooled]? I understand, I do. I just hadn't seen that before."
Collins was not ejected and the Mets won the game regardless, but the manager made a larger point in favor of an expansion of instant replay.
"I know one thing," Collins said. "By the time I got out there and come back, they could have looked at a replay. Adrian Johnson is one of the finest guys you will ever meet in your whole life. You just feel bad [his crew is] catching all this heat."
Jay Greenberg is a contributor to MLB.com. This story was not subject to the approval of Major League Baseball or its clubs.