Collins understands Buck's frustration
Collins understands Buck's frustration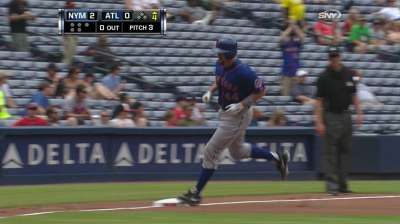 CHICAGO -- Usually affable, Mets catcher John Buck was noticeably irritated following Tuesday's loss to the White Sox. The reason? Manager Terry Collins pinch-hit for him with the tying run on second base and two outs in the ninth.
"I don't have any problem with players being upset when they come out of a game -- none whatsoever," Collins said. "And I don't blame him. But I certainly didn't want to have a guy who I think is -- if not the best hitter -- certainly one of the top two hitters on my team, sitting on the bench when the game's over against a right-handed pitcher with the tying run on second base."
That hitter, Daniel Murphy, ultimately hit a popup that fell in for a game-tying error. But Collins acknowledged that the move had plenty to do with Buck, who finished 0-for-4 with four strikeouts Wednesday and has one hit in his last 22 at-bats.
Because Buck is a veteran and an everyday player, Collins made a point to approach him earlier in the ninth and explain the situation.
"I don't expect him to like it," the manager said. "I'm fine with that. I have no issues with him. But I had to make that decision, so I went with Murph."
Anthony DiComo is a reporter for MLB.com. Follow him on Twitter @AnthonyDicomo. This story was not subject to the approval of Major League Baseball or its clubs.