Change in approach does the trick for Satin
Change in approach does the trick for Satin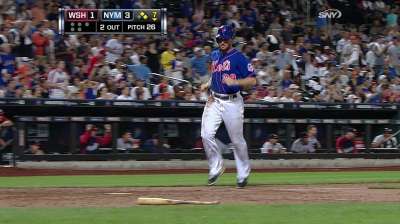 NEW YORK -- This is the third time Josh Satin's been playing at the Major League level, but it's the first time he feels comfortable being here. He's not trying to do too much, instead constantly reminding himself to stay within his own game.
It's paying off.
In Friday's 6-4 loss to the Nationals, the first baseman went 3-for-3 with a walk and two RBIs. If the bullpen hadn't imploded in the eighth inning, Satin would've been the one to provide the bulk of the offensive production to earn Matt Harvey a win. While Satin's contributions ended up an afterthought, they still showed a new approach to hitting is earning him positive results.
Satin entered Saturday on a four-game hitting streak, and he's 7-for-14 during that span. He's also reached base safely in nine straight games, building a .552 on-base percentage during that stretch.
"Josh Satin right now has done a great job," Mets manager Terry Collins said. "And he's given us as quality a bat in the middle of the lineup as anybody."
While playing for Triple-A Buffalo last season, Satin said his production was "fine." He finished the season hitting .286 with 14 home runs and 60 RBIs. But fine in the Minors wouldn't translate to the Majors, and he knew it. He had only one at-bat in the big leagues last year, and it was a strikeout.
So he made some mechanical adjustments. Satin widened his stance to cut down some of his movement at the plate and help him stay balanced.
In 59 games for Triple-A Last Vegas this season, he was hitting .305 with nine home runs and 32 RBIs before the Mets brought him up on June 11.
"But here, everyone's got good stuff, everyone knows what they're doing," Satin said. "I just really tried to grind out at-bats and that's kind of been my mentality here, just do whatever I can to get on base or put the barrel on the ball."
It's resulted in better at-bats in which he's fighting off pitches and going deep into counts. He has seven strikeouts, but he said he felt even some of those were good at-bats that didn't go his way in the end.
With Ike Davis still working on his swing in Las Vegas and Lucas Duda on the disabled list, Satin's going to see plenty of playing time at first base, especially against left-handed starters. He's been in the starting lineup for each of the last six games.
Collins said Saturday he isn't sure what Satin's role will be when Davis comes back, but he said Davis and Satin won't platoon at first base.
Until then, Satin is doing all he can to make sure the Mets have a tough decision on their hands.
"That's the biggest thing," Satin said, "The only way to stay here is if they think you can help the team win."
Anthony DiComo is a reporter for MLB.com. Follow him on Twitter @AnthonyDicomo. Chris Iseman is an associate reporter for MLB.com. This story was not subject to the approval of Major League Baseball or its clubs.