Lyon, Mets' bullpen hit speed bump in Nats series
Lyon, Mets' bullpen hit speed bump in Nats series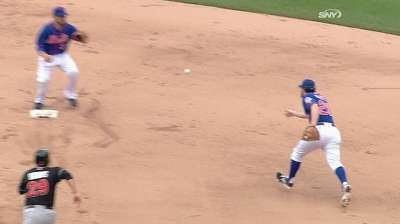 NEW YORK -- Brandon Lyon's biggest problem right now might be that hitters are simply seeing too much from him.
"You look at Brandon Lyon and he's getting into deep counts," Mets manager Terry Collins said, "instead of getting guys out early in counts."
Lyon gave up a career-high six runs in two-thirds of an inning against the Nationals on Sunday. On Friday, he gave up a bases-clearing double to Washington third baseman Ryan Zimmerman, spoiling Matt Harvey's dominant start.
His struggles have only been part of the problem for the Mets' bullpen.
Over the last three games, Mets relievers have given up 13 earned runs in 9 1/3 innings, and that comes after a span of 43 innings in which the Mets' relievers only allowed six runs.
The bullpen's inconsistency this season hasn't allowed Collins to give any reliever a defined role, with the exception of closer Bobby Parnell. But Collins said Monday that it hasn't been much of a problem.
"They'll pitch whenever they're asked to pitch," Collins said. "That has made it a lot easier. Having quality veteran guys down there has helped."
Chris Iseman and David Wilson are associate reporters for MLB.com. This story was not subject to the approval of Major League Baseball or its clubs.