Mets expect Wheeler to regroup after home debut
Mets expect Wheeler to regroup after home debut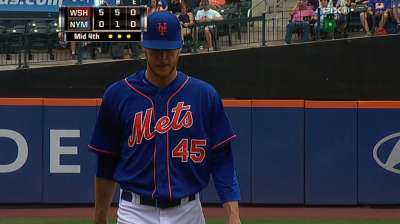 NEW YORK -- Zack Wheeler remains a work in progress. That much has been clear through his three starts with the Mets. He's shown he can be dominant at the Major League level, but he has been inconsistent.
One day after watching Wheeler struggle against the Nationals in a start in which he gave up five runs on six hits in 4 2/3 innings, Mets manager Terry Collins said Wheeler's main issue was command. But after discussing Sunday's start with Wheeler, Collins said he's "excited" to see Wheeler back out on the mound in four days.
While a dip in velocity had Collins concerned on Sunday, he said Wheeler's performance was better on tape than what the scoreboard read during the game. Catcher John Buck also started calling for more two-seamers, hoping Wheeler could hit his spots if he pulled back a bit on his velocity.
"He actually made some pretty good pitches," Collins said. "He just missed a couple locations on balls that came back to hurt him."
Wheeler cruised through the first inning against Washington, getting two strikeouts and a groundout on just 13 pitches. His day became much more arduous after that, as the Nationals took advantage of his mistakes. They rarely bit at his slider, instead waiting for Wheeler to miss his location with a fastball.
The hype surrounding Wheeler making his home debut didn't help either, Collins said. It just added more for Wheeler to think about at a time when he's still trying to get comfortable on a Major League mound.
"Hopefully he relaxes in his next start and it gets him back into a groove to where he's more comfortable," Collins said. "I think he's realistic to know he's got the stuff to pitch here, he's good enough to pitch here."
As the process of turning Wheeler into a consistently dominant Major League pitcher continues, the Mets are confident his potential is on the verge of turning into better results.
"I expect him to be much better his next start," Collins said.
Chris Iseman and David Wilson are associate reporters for MLB.com. This story was not subject to the approval of Major League Baseball or its clubs.