Tejada heads to Triple-A Las Vegas to continue rehab
Tejada heads to Triple-A Las Vegas to continue rehab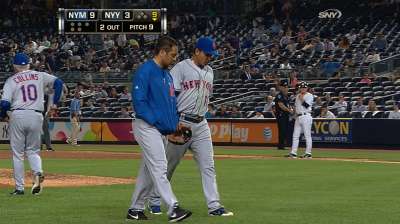 NEW YORK -- When Ruben Tejada injured his right quad on May 29, a demotion was on the horizon. The 23-year-old shortstop was struggling at the plate, with an average that hung around the low .200s, and making mental mistakes in the field and on the basepaths. Instead, he headed to the disabled list.
More than a month later, Tejada is heading to Triple-A Las Vegas as he works his way back to the Major League club. Tejada played nine innings with the Gulf Coast League Mets on Monday before being transferred to the 51s -- his last stop as he tries to play his way back to New York
"Last time he was here, he was struggling, and in order to come back you've got to have some confidence in what you're doing," Mets manager Terry Collins said.
When Tejada went on the DL, he was batting .209 with a .267 on-base percentage as a leadoff hitter. He had 10 extra-base hits all season and hadn't hit one in more than two weeks.
Collins said he wants Tejada to "have some success" in Las Vegas before he returns to the big league club. Playing in the hitter-friendly Pacific Coast League could give him an opportunity to recapture his swing and some of the confidence he may have lost.
"I want him to go down there and have some success," Collins said, "so that when it's time to come back, his game's where it belongs and where he feels good about it."
Chris Iseman and David Wilson are associate reporters for MLB.com. This story was not subject to the approval of Major League Baseball or its clubs.