Buck's slump may lead to more Recker starts
Buck's slump may lead to more Recker starts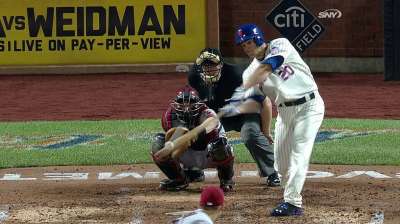 NEW YORK -- Mets manager Terry Collins said it's possible catcher Anthony Recker could get some more playing time as his recent improvements at the plate have coincided with John Buck's offensive struggles.
Buck, 32, got off to a torrid start to the season, hitting nine home runs and driving in 25 RBIs in April. Since then, he's struggled at the plate, hitting just .170 since May 5. He has four strikeouts in his past eight at-bats. With Recker, 29, handling pitchers well while also getting some timely hits, he might be earning himself some more starts.
In the Mets' 9-1 win over the D-backs on Tuesday, Recker went 2-for-4 with a home run -- off Arizona ace Patrick Corbin -- and two RBIs. His offensive production and his steadily handling of Mets starter Jeremy Hefner have impressed Collins, and it could ultimately help decide how much Recker plays going forward.
"Anthony did a nice job last night. We're facing a team that is very, very good," Collins said. "He swung the bat good last night."
It wasn't the first time this season Recker came through in important situations. Two of his three home runs this season have given the Mets the lead, and the team is also 4-0 in Recker's last four starts behind the plate.
Buck, who's been catching in the Majors since 2004, does have considerably more experience than Recker. That goes a long way, especially since the Mets have a number of young pitchers, including phenoms Matt Harvey and Zack Wheeler.
Still, Collins is taking a day-to-day approach when deciding who will be behind the plate.
"In today's case, Buck's catching Matt Harvey. I'm not breaking that up," Collins said. "Tomorrow, I haven't decided who's catching tomorrow yet."
Anthony DiComo is a reporter for MLB.com. Follow him on Twitter @AnthonyDicomo, and Chris Iseman is an associate reporter for MLB.com. This story was not subject to the approval of Major League Baseball or its clubs.