Marcum slated for next start, but Mets cautious
Marcum slated for next start, but Mets cautious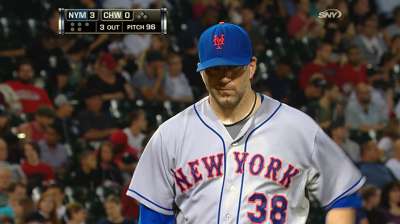 NEW YORK -- An MRI taken Tuesday on Shaun Marcum's upper back came back negative, allowing the Mets to keep him on line for his next start Saturday in Milwaukee. But manager Terry Collins said he planned to hold back long reliever Carlos Torres just in case, wary of the "tingling" that Marcum experienced in his right hand during his last start.
"It's the same stuff he had in Spring Training," Collins said. "It tightens up in the upper back. But he pitched with it the other day. I don't know what inning it started bothering him a little bit, so we thought we'd get him looked at. He's fine."
Marcum also said he was "fine" when asked about the issue Tuesday night, though he grew agitated at the group of reporters who approached him. Collins said he has asked Marcum to be forthright with him about his health, considering the myriad shoulder, elbow, biceps and neck issues that have plagued him over the past year and a half.
Marcum opened this season on the disabled list with a right biceps issue, which stemmed from a neck injury he suffered in Spring Training. But he had not suffered any obvious setbacks since joining the Mets in late April, posting a 4.14 ERA over his past nine outings.
Collins said that the team may explore options to help Marcum stay healthy, be it altering his massage schedule or cutting back on his throwing program between starts.
"He's pretty honest," Collins said. "The other night when we took him out, I asked him if he was OK and he said, 'I'm starting to get tight back here.' I said, 'Great, I understand, but you've got to let us know.' He said, 'It was fine, but I could start to feel it tighten up.' I said, 'We've got to get it looked at.' This is a reoccurring thing since Spring Training that's happened, so I wanted to get it looked at. Fortunately, the MRI came back clean."
Marcum is 1-9 with a 5.03 ERA this season.
Anthony DiComo is a reporter for MLB.com. Follow him on Twitter @AnthonyDicomo, and Chris Iseman is an associate reporter for MLB.com. This story was not subject to the approval of Major League Baseball or its clubs.