Mets recall Burke from Triple-A, designate Lyon
Mets recall Burke from Triple-A, designate Lyon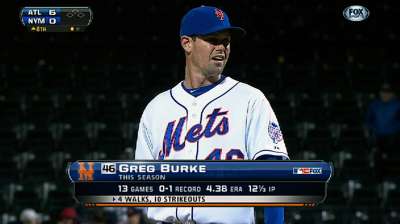 MILWAUKEE -- Greg Burke did nothing wrong, which was what made his demotion to Triple-A Las Vegas last month all the more bitter. At the time of that transaction, Burke had spent the better part of a month posting the best statistics of anyone in New York's bullpen, but he became a roster casualty due to the simple fact that he had Minor League options.
That hiatus ended Friday, when the Mets -- needing fresh bullpen help after playing 46 innings over the last four days -- recalled Burke from Las Vegas and designated Brandon Lyon for assignment.
"I'm happy that he's back," manager Terry Collins said. "Hopefully this will be the last time that we have to use him to create some room, and he pitches like he has been for the rest of the year here."
Burke spent two previous stints in the big league bullpen, struggling in April, but returning to post a 1.98 ERA from May 13 until his demotion in late June. The submariner gave up three runs in his first game back with Las Vegas, but he has not allowed a run in four games since.
Anthony DiComo is a reporter for MLB.com. Follow him on Twitter @AnthonyDicomo. This story was not subject to the approval of Major League Baseball or its clubs.